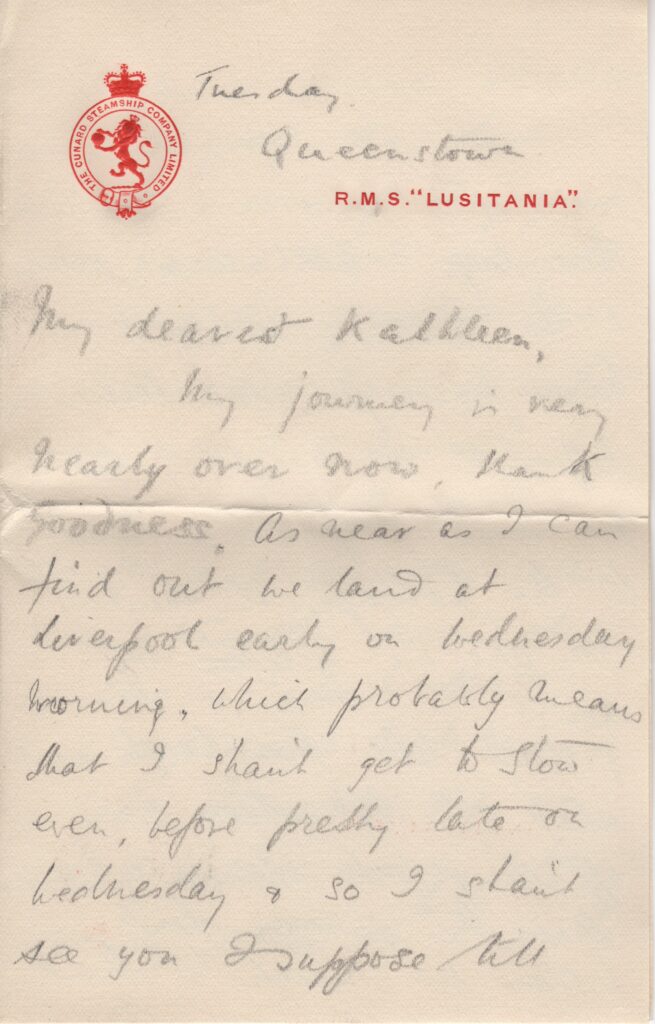 THE CUNARD STEAMSHIP COMPANY LIMITED
                                                                                       Tuesday [April 6, 1909]
                                                                                           Queenstown*
                                                                                               R.M.S."LUSITANIA".      
My dearest Kathleen,
My journey is very nearly over now, thank goodness.  As near as I can find out we land at Liverpool early on Wednesday morning, which probably means that I shan't get to Stow even before pretty late on Wednesday and so I shan't see you I suppose till Thursday.  I shall come over in the morning unless I hear from you something different, but anyway you might drop me a line to the Cottage.  I'm thinking you owe me a letter by now.  
I don't like this boat at all.  The vibration is appalling but she is so big that the waves don't bother her much.  I think I prefer a slower smaller boat myself.  They don't vibrate and even if they jump about a bit more, one gets one's sea legs quicker.  This ponderous old lump of a boat takes about five minutes to get one good roll in and it doesn't suit me very well.  I am travelling second class as this is about the most expensive boat running and being alone the trip is horrid either way.  I haven't scarcely spoken to a soul all the way.  I don't feel sociable enough to talk to strangers when I don't feel well enough to eat, much less smoke.  I believe next Thursday's a hockey day isn't it?  If I see you in the morning, I can stand even that.  I feel that if I can just see you again for a few minutes I shall be quite satisfied, though I know really that when I do see you I shan't be so easily satisfied.
I am only now beginning to realize how soon I shall see you.  I am looking forward to it so much.
With all my love,
Ever yours,
Robin
[*The port of Cobh in County Cork was renamed Queenstown between 1849 and 1922.]
<>
Great Western Royal Hotel,
          Paddington, London, W.
Wednesday [April 7,1909]
My dearest Kathleen,
Owing to fogs and wrong tides in the Mersey we couldn't get into Liverpool till 1:00 o'clock and didn't get away from the boat till after 2:00 so it was too late for me to get down to Stow today.  As it is I shall get there tomorrow by the 1:16 and shall come over as soon as I have had some lunch at the Cottage.  It is 8:00 o'clock now so I don't know when you will get this letter.  The whole trip has taken me just a fortnight and I was getting a little tired of it.
No more till tomorrow.
With my best love,
Ever yours,
Robin
<>
April 8, 1909                                                                                KITEBROOK,
                                                                                                        MORETON-IN-MARSH.
My dearest Robin,
I got  your two letters together this morning.  It's simply splendid to think of you in England again.  Welcome back to the old country!  I wasn't expecting you so soon so it was a grand surprise!
The cat was loosed about ten days ago so prepare to be overwhelmed by congratulations.  I am feeling quite crushed and say "thank you" with a sweet smile every time anyone speaks to me–from force of habit, quite regardless of what they are talking about.
I am not going to play hockey today, it's too hot, so I shall be in this afternoon.  I don't know if you will get this before you set off down here.  I am simply longing for this afternoon.  Have you altered much, I wonder?
Heaps of love,
Kathleen
<>
April 10, 1909                                                                           KITEBROOK,
                                                                                                        MORETON-IN-MARSH.
My dearest Robin,
You are staying here till Tuesday, aren't you?  We can send you to Moreton station if you are going to Oxford.  Auntie says I had better send you a line to say we hope you will stay in case you are making arrangements to return to the Cottage on Monday, and as we have no post tomorrow you could not let them know if you changed your mind.
In great haste,
Yours ever,
Kathleen        
<>
Tuesday [April 13, 1909]                                                               South Hill Cottage,
                                                                                                               Stow-on-the-Wold.
My dearest Kathleen,
I am missing you most awfully tonight.  I seem to want you near me all the time.  I would give anything to be up in your room with you again or better still to have you here, for then I really should have you all to myself.  I believe you didn't go to Bourton after all this afternoon.  From what I hear you didn't miss much.
I managed to get to Broadwell and found out that they don't expect Harry back next winter.  It's rather sickening for them, isn't it?  I know Harry will be awfully upset when I tell him but probably if he waits another year either his orchard will be bringing in some returns or something will have cropped up to settle things definitely one way or the other, and this year I suppose they would have been in the same uncertain state as before and that is hopeless.  I know I couldn't stand it if you were hanging in the balance.
This letter is not an inflicion on you that needs answering but I just wanted to tell you that I really do miss you dreadfully, and now I'll go to bed.
Lots of love,
Robin
<>
April 14, 1909                                                                           KITEBROOK,
                                                                                                        MORETON-IN-MARSH.
Dearest Robin,
How dare you add to the weight of my correspondence!  You say your letter doesn't want an answer, but all the same I think it shall have one (as I happen to have a few minutes to spare).  It's awfully nice of you to miss me when you haven't got me.  I wonder if you always will?  I missed you too most horribly yesterday.  I am sure you are having a demoralising effect on my brain.  I used to be able to bring my attention to bear on one thing at a time and banish everything else but you are positively declining to be banished, however many other things I want to think about!
No, we didn't go to Bourton yesterday, it was so wet; and I haven't hunted today as Ladysmith had to meet trains.
I can't write readably with this pen.  The guests arrive, hence the smudge.
Till tomorrow,
Yours lovingly,
Kathleen
<>
April 24, 1909                                                                           KITEBROOK,
                                                                                                        MORETON-IN-MARSH.
Dearest Robin,
I am writing to break it to you gently that I am going away on Tuesday now instead of the end of the week.  You said you should go away at the same time, so I thought you might like to know at once.  Reggie is coming home next week to have his operation so I shall have to go to Leamington on May 3rd and I think it will be better for me to go up to Yorkshire first instead of after Leamington, don't you?  Why haven't you been to see me either yesterday or today?  I feel quite hurt about it!  You are not still sitting under the sign post, I hope.  Norah is coming down this afternoon.  I wonder what I am to say to her.
Looking forward to seeing you tonight.
Yours ever,
Kathleen     
<>
Monday Night [April 26, 1909]                                                              Kitebrook
                                                                                                             Moreton in Marsh
My dearest Robin,             
I never gave you my address after all so I am writing it, as I can't wait till a letter is forwarded from here:
Grove House
      Levisham
Nr Pickering
              Yorks:
will find me till Saturday, so mind you write to me at once.  I shall want a letter so much.  I don't like the prospect of this fortnight a bit.  It seems much worse to be away from you for that little time now than it did for the whole year before, and that was bad enough.  I just want you horribly, only somehow I can't help trying to make you think I don't–my perverse nature I suppose!
I must not waste!! the precious minutes writing to you.  I have exactly 4½ hours of night in view and I'm very sleepy and have a bad head-ache–cheerful prospect!
Good-night and write to me soon, dear.
Ever your loving
Kathleen   
<>
April 27, 1909                                                                                                    York Station
My dearest Robin,
Just a line to tell you I have not over-slept myself anywhere yet!  My fountain pen is not very brilliant is it!  I had to shake it for ten solid minutes before it would make an effort at all.  I think the good old pencil is better.  It poured most of the time we were in London, so we had a delightful time.  I am getting a bit weary of my day–there are still 2½ more hours before I am likely to see my bread and milk and bed.
I hope you are having a happy time in Oxford.
Did you enjoy the concert last night?  Which part do you like me in best–the horsey female or the naughty child?
I hope you didn't meet the ghost!
I must go on another ticket hunt so farewell.
Ever yours with love,
Kathleen
<>
April 28, 1909                                                                                             Grove House
                                                                                                                   Levisham
Dearest Robin,
Just a line to tell you I got here all right last night and was not a bit tired really.  It was so nice to get your letter this morning.  I was afraid you would not get back from Oxford in time to write.
I am in the middle of making buns for tea so cannot write you much now.  I will continue tomorrow.  (Unless of course there should be anything else to be done!!)
I expect you had better say "Yes" to Nuneaton about me.  If I take you to see my relations it's only fair I should go to see yours.
Its lovely up here.  The moors looked glorious this morning when the sun was shining.
My buns call me, so more anon.
Ever yours,
Kathleen
<>
April 28, 1909                                                                                             Grove House
                                                                                                                   Levisham
My dearest Robin,
Now our day's work is done and everything neatly washed up, I may be able to spare you a few minutes before bed-time!
My buns were rather a success after all.  That is all I have done in the cooking line so far, as the others have got rather lazy and get ready-made things sent up.
I am so glad you liked me as the Backward Child.  I love doing it, but I shan't do it any more.  It would not be dignified for a married woman, would it?  Bettie has been writing with my pen and of course ruined it.
You are talking absurd nonsense.  I was quite taking my own way when we walked behind the others instead of in front, only you see I managed it so unobstrusively that you thought you were doing it!  I wonder if I shall always be able to do things like that?
I don't seem to be going to be allowed to do much, as they are both talking to me and calling me unsociable for not answering.  Perhaps when I get to Leamington I shall have time for a proper letter.
My best love,
Yours ever,
Kathleen
<>
April 27, 1909                                                                                   South Hill Cottage,
                                                                                                               Stow-on-the-Wold.
My dearest Kathleen,
I regretted all day that I hadn't got your address and when I got back from Oxford I found your letter so now I suppose I must write!
I don't think I ever told you what I thought of the dualogues last night.  I liked you awfully in both of them and I just loved the way you talked as the backward child.  I like you with your hair down.  I wanted to come and play with it.  I will too one day, dear.
Are you aware that if I had let you have your own way last night we should have dutifully walked down to the Francis's about five yards in front of the other two and that it was only by thrusting you back by main force when the cart picked up your belongings that we got behind at all.  Truly, a man has got to make his own opportunities.  This applies to other things in life besides love.  Fancy me Moralizing!
My letter to Nuneaton crossed one from my aunt there full of congratulations and good wishes.  She last saw you as a small infant and wishes to renew the acquaintance.  She wants us both to go there for a weekend towards the end of May.  I should rather like you to come if you can manage it, as they are my nearest relations and I should like them to know you.
I also heard from Mrs. Leigh wanting to know what we would like for a wedding present.  How does one answer a letter like that?  Of course I shall temporize and say that we haven't begun to think of such things, but it strikes me that it's time we did, for she writes as if she really wanted to know.  Personally, I am quite indifferent about what I get, but it would be as well to think of a few odds and ends to mention to people who want to know.
What a wretched time you must be having today.  I hope the headache is gone, but even then you will have started the day tired and that's not much fun.
I wish I was back in your room with you.  You can have no idea how absolutely happy I feel now even though you are away and I know I'm going to miss you every hour of the day.
You can't think what I feel like when I have you sitting by me and I put my arms round you.  Those times are worth living for.  You were absolutely sweet to me that night at Lemington and I loved you if possible more than ever for loving me so much.  For that's what it comes to.  They say love always either grows or lessens.  Ours is the right kind that grows, slow but very sure.  I like you for that too.  The kind of love that you can give me is not all won in a day, but it's the kind that never changes.
I hope you're going to have a good time while you're away.  I shall probably write to you quite often, but really, dear, you needn't write to me when you're very busy.  You see, I haven't much to do except think about you and wish that I had you back again.
With all my love, dear,
Robin
<>
April 28, 1909                                                                                 South Hill Cottage,
                                                                                                               Stow-on-the-Wold.
My dearest Kathleen,
You surprise me!  I thought there was no chance of getting a letter from you before Thursday or Friday and I have had two already.  You dear, you always do everything right.  This is ápropos of something quite different.  I am glad now that you didn't give in to me before I went out to Canada last time.  It would have been so much worse.  What you call your "natural perversity" (it is really something quite different and I know what it really is if you don't) used to worry me a good deal and I wondered if I should ever get through it, but all the time I liked you for being like that.  Once or twice I thought I never should but I have now, dear, and that is why I feel so happy.  You had to give in sometime, you know.  I should not have been satisfied till you had.
Do you remember that I told you that to fall in love and be loved by the right girl was the only important thing a man ever did?  That is quite true.  I suppose most men are ambitious, I am myself.  I would love to make a name for myself, which of course is not the least probable, farmers seldom do; but if I did it would be your approval I should look for and without that what other people thought about me wouldn't give me any pleasure at all.  When a man loves a girl everything he does or thinks centres in her.  She means absolutely everything to him.  You must believe this, dear–I never had the brains to invent "nice" things to say unless I meant them.
I don't know how it is, but when I have you to myself I never can tell you things like these; but then when you're with me and close to me I feel so deeply that it is quite impossible to say what I want to say.  I wonder if you can understand that?
I haven't told you any news, but then I wrote last night and it is only the morning now.  My step-mother and Daph are coming to lunch today and _eenies' kids to tea.  I rather like her little girl, who is by way of being a friend of mine.
I don't think I told you that I thought the first dualogue the best one.  I thought the words were very clever and that you made a most excellent study of a lady's maid and also you looked very nice.  You know what I thought of the "Backward Child" and especially of you, but even then I liked the other best.  I think it made a better dualogue, but as I told you I loved you as a child (very plump child too) and I liked you with your hair down.  You have lovely hair.  I think you will have to be photographed some time with your hair done as I like it, all fluffy, for lately I haven't thought your photograph a bit like you.  I don't think it does you justice at all.  No one ever sees quite the same expression on your face that I do but I should rather like one even with the expression you deign to give a photographer.  I will write a more newsy letter if I find anything to write about but I shall probably write something anyhow.
With best love,
Ever yours,
Robin
<>
April 29, 1909                                                                                  South Hill Cottage,
                                                                                                               Stow-on-the-Wold.
My dearest Kathleen,
Before I forget, next time you write tell me your address at Leamington from Saturday onwards, as otherwise I shan't know where to write to.
Of news there is none.  Yesterday was the usual sort of day, howling wind and rain at intervals, and today looks like being the same.  Tomorrow I go to town and come back on Saturday.  Daph will be up there so I am taking her to a theatre tomorrow night.  If it had been you instead I might be looking forward to it, but at present I don't feel wildly excited at the prospect.
I heard from Powell the other day.  Everything seems to be going on all right so far.
I wrote to see if I could find out the address of some good place for furniture in Montreal, as I could find out there what sort of stuff they keep and the price thereof.  English furniture is sure to be much better and if it doesn't cost too much to send out what little I have to buy I will get it here, probably at Maples.  I can find out all about it tomorrow.
How does the cooking go?  A good thing to find out is what sort of a meal gives the best results for the least trouble and time.  You do not want to be hugging the stove all day or I shall feel jealous of it.  You are such an energetic little girl that you are far more likely to try to do too much than to think how you can save yourself most, and the latter knowlege is worth knowing sometimes.
I haven't heard anything of Reggie yet.  When you left, of course, your aunt hadn't heard when he was coming, but she was going to write to me when she knew.  As I am not going to be away for the weekend, I shall go over on Sunday most probably and see what's doing.  I am going to write to Nuneaton and say that I have heard from you and that you would like to go and see them very much.  A pardonable exaggeration, I think.  I believe you're just like me.  You don't like or want to meet people until you've seen them quite a lot and then you like most of them.  When I first went to Kelowna I never tried to make friends with people or get to know them because other people said they were nice, but now I think I have quite a lot of friends out there and you will be the same, I'm sure.  In time you will find people to like out there but you won't be in a hurry to do so.
It will be a very long time before you spend another fortnight or more away from me, so you had better make the most of it.  I shan't let you go when I once get you, so you had better resign yourself to the inevitable.  I'm afraid it's a terrible outlook for you but there's no help for it now!
I don't think I have anything more to write about unless I start making personal remarks as in my other letters, and as of course it doesn't interest you to be told that I think the world of you and that I want you back again, I think I will stop.
My darling, you're never out of my thoughts.
Yours as always,
Robin
<>
April 30, 1909                                                                                                          Levisham
My dearest Robin,
It is noble of you to write me such lovely long letters.  I just love getting them.  I am going to answer all the things that want answering when I get to Leamington, for I really can't collect my thoughts here.
I cooked a most successful beef steak for dinner today, but I am not very quick at it, I am afraid.  However we don't by any means hug the stove all day!
I am sure I shall never be too energetic, you know.
I heard this morning that Reggie is going on well.  It would be awfully nice of you to look him up on Sunday.  
It is horribly cold up here today and has been trying to snow.
We have just been taking each other's photos to remind us of our happy girlhood! with our hair in pig-tails, which is how we wear it up here to save time.
My address will be
5 St Mark's Rd
Leamington
It takes me all day to get there.  I am getting tired of these long journeys.  I don't think I shall come back here.  I don't want to a bit now and I wish I was going home instead of to Leamington, for I want you again so much.
Yours lovingly,
Kathleen
<>
May 1, 1909                                                                                                                The Train
My dearest Robin,
I hope you enjoyed your theatre last night.  I wonder what you went to?
I am having quite an exciting journey, as I am not going at all the way I had meant to; but I seem to be going to arrive an hour earlier, which is a consideration.
I won't be likened to a calf, especially as you say they are the silliest of all young things. [This reference to Kathleen as a calf does not appear in any extant letter of Robin's.]  You would doubtless have thought me very young and very silly if you had seen me up here, but it's nice to be young–and silly sometimes.
How the train wobbles.
I am glad you don't like Mrs. Evered because I hate her.  She is a horrid chatterbox and says all sorts of nasty things about people.  (That's not very nice of me, is it?)  
What a pity I shan't be at home to go with you to Cheltenham on Monday.  It's awfully nice of your friends to want to see me.  I am afraid you will have some difficulty in reading this, but I know I shan't be able to write after I arrive tonight.
I wish I was going home instead and you could come over and see me tomorrow.  It seems an awful long time since last Monday.  I am almost forgetting what you are like.
I hear from Auntie she has sent a notice of our engagement to the Morning Post.  She said it would be in either today or Monday's.  I have just been studying today's paper unsuccessfully.
Did I tell you Mrs. Richardson had asked me what we wanted as a wedding present and the Leighs have asked Auntie?  It's hopeless trying to think of anything.  One does not know what sort of value to suggest.
I wonder when I shall be allowed to go home?  If Grandfather is not overcome by his journey, I believe Aunt Bo means to return to Leamington on Thursday, so I might get back then or Friday; anyway I hope so, for I have been away quite long enough already, even though I have been enjoying myself enormously.  I can't help missing you, you know, in the middle of it all.
We had quite a lot of snow yesterday and it was all white early this morning and bitterly cold.  I should think it's freezing now in the shade.
I am trying to think out the most useful things to learn to cook, as I shall have a few lessons in Leamington if I can.  I believe it's mostly common sense though, and of course I've heaps of that!  I find it so hard to cook more than one thing at a time, for I am sure to get wrapped up in one and forget the rest and it takes too long to do everything separately.  Besides, one would have to have such disconnected meals or the things would get cold.  
I was quite sorry to have to do my hair up this morning.  It's so much less trouble in a pigtail and looks much nicer too!
There are two middle-aged girls in this carriage with the longest noses I have ever seen.  There hardly seems room for them opposite one another.
I am sure you won't be able to read half this so I shall stop, as I've really nothing to say except what I've said before–that I want to come back most horribly.  You'll never get rid of me even for a day when you've once got me, for I shan't go.  Perhaps I shall be able to make you think you don't want me to and get my own way like that.
My best love, dear.
Yours ever,
Kathleen
Those two superstitious idiots M. and B. abused me for taking off your ring.  [B. for Betty Whitehead.  M. for Mabel Witts?]  They say it's most unlucky and ought to be replaced by you each time.  I don't believe that, do you?  I couldn't have made cakes with it on.  It would have got in such a mess and besides I was wearing it all the time really, round my neck.  I could not be parted from it.
<>
May 2, 1909                                                                                                5 St Mark's Rd
                                                                                                                   Leamington
My dearest Robin,
I got here all right last night–possibly you gathered that from the post mark on my letter!
I am sorry you didn't enjoy your stay in London very much, though I like to think I make all that difference.  You make just that to me too.  Though I may be really quite enjoying myself, it's only in a placid kind of way, and if I think about it much I begin to think I am not enjoying myself at all.  Moral:  Dont think!
I wish I was at home today.  It's awfully nice of you to go and visit the invalid, but I feel quite jealous of him.  I know you will miss me more there than anywhere though, won't you?, and that comforts me a bit.
We shall have to study those furniture lists when I come back.  I think I am rather glad the house is not furnished yet even if you are not, for I shall enjoy doing it really, if one only knew where to start.
Grandfather seems pretty well, I am glad to say, so I hope he won't get a cold on the journey; for if he gets laid up at Hastings the prospect of my return this week will fade away.
We played poker-patience last night–I was last!  They play every night here and have got so quick at it that I just have to drop my card anywhere without considering if it is likely to make anything!
I am asked endless questions about you by the whole family all at once and about our plans and I know they don't believe me when I say that everything is not absolutely settled yet!  They seem to think we ought to have mapped out every minute for the next ten years at least.
I am going to make enquiries as to cooking lessons tomorrow, but I still don't know what I want to learn.
I am afraid it's hardly the weather for tennis but I hope you will be able to play tomorrow.
Perhaps in five days I may be back to play with you.  Oh, you don't know how I hope so.  I have been away long enough, dear.
Yours ever,
Kathleen
<>
Sunday [May 2, 1909]                                                                       South Hill Cottage,
                                                                                                               Stow-on-the-Wold.
My dearest Kathleen,
It is a good thing that after this you aren't going to be away from me for any length of time, as if you were you would always have to write to me every day.  I should hate to be without a letter each morning.  It is brought up to me with my tea and I am always awake and waiting for it.  If it's any consolation to you, it may interest you to know that lots of the women folk out our way put their hair in pig-tails and I'm sure you'd look very nice like that.  I am glad you enjoyed yourself so in Yorkshire.  I could have enjoyed myself if I had had a couple of friends to stay with under like circumstances, but as I hadn't I found it pretty slow down here.  You have quite raised my hopes by saying you may be back Thursday or Friday.  I didn't expect you so soon.
Anyway, I think the worst is over now, as next week I have something or other to do most days.  Never having tried it, you can't think how appalling it is to sit down after breakfast and wonder how you were ever going to get through the day.  Of course at Kelowna that never happens because there is always something to do if I want to do it, but last week there was nothing and also the weather was vile.  If it was decently warm I shouldn't have minded because I could bask in the sun and read, a thing I am rather fond of doing; but I don't like staying indoors all the time unless you are there to keep me company and then I don't mind whether I'm indoors or outside or whether it rains or not, I am quite happy.
Personally, I am not a bit superstitious about your taking off my ring, but I liked you for wearing it round your neck.  It is like you to do little things like that and I love you for it.  I am going off to Lemington to lunch there now and then I shall go on to Kitebrook and even that is some consolation.
No more now except to add my love and there's such a lot of that that really this is a very long letter.
Yours as always,
Robin
<>
May 3, 1909                                                                                                5 St Mark's Rd
                                                                                                                   Leamington
My dearest Robin,
I am afraid this will have to be a very few lines–we have had such a bustling day.  Grandfather did not go till about lunch time, so all was confusion before that, and this afternoon I tore along beside Granny's bath-chair for an hour and a half.  It was most exhausting.  Then a tiresome old lady came to tea and talked for hours and now the post is about to go.
Aunt Bo says she positively can't exist much longer without making your acquaintance, so if she comes back Thursday could you come over on Friday to lunch and see her and Granny and take me back?  I have not asked Granny about it yet, she is rather tired by the old woman, but she wants to see you very much, I know.  I'll tell you what she says tomorrow.
My best love,
Yours ever,
Kathleen
<>
May 3, 1909                                                                                     South Hill Cottage,
                                                                                                               Stow-on-the-Wold.
My dearest Kathleen,
I went to Kitebrook yesterday and saw Reggie.  As you probably know, he is going on very well but will probably have to stay in bed for another week.  I had tea up in his room with him and then Dr. Style turned up and I went down to the billiard room and had a talk with your aunt, chiefly about our mutual dislike of shopping in London.  When I first got there, before I went up to see Reggie, we had a talk in the drawing-room and I think she holds much the same opinion about you that I do, namely that you are really very energetic and far more likely to try to do to much than too little.  I think also I cheered her up about another matter, for earlier in the day at Lemington I had a talk with my solicitor who is there and it appears that one of these days, even if I don't make any money out in Canada, I shall have about £800 a year.  It's not much but still, as you've got money too, there is no reason why we shouldn't live very comfortably in England, even if I couldn't find something to do over here that would bring in something; but I would like to have a few years out there first to try and make some more, otherwise I shan't feel that I'm much of a success.  I am sure of one thing and that is that I could tell at once if you didn't like it out there after a fair trial, even if you didn't say anything, which I hope you would; but I am beginning to have my doubts now whether you would, for though you talk a lot about coming back the instant you want to, I believe as a matter of fact you would wait a bit longer if you saw that I was  very happy and keen on the life, and you mustn't do that.  You've got to say when you've had enough.
I don't suppose there is much in the cooking line that is important to know that you don't know now and I should imagine that the best cookery school in the world is one's stove at home.  In the course of the first month or two out there you will learn more by practise than you could ever learn in England.  If you can make a good stew in the winter and salad in the summer, there is always hope, for what more can a man want in the hot weather than cold meat with a good salad.  (Mem:  no cooking required for lunch in the summer.)
I am quite looking forward to seeing Currie (my friend) in Cheltenham this afternoon.  He was in the same house with me at Haileybury and the same College at Oxford and always my best friend, but of course for some years now I have seen nothing of him.  We shall certainly have lots to talk about.
I do most sincerely hope that you come back on Thursday or Friday.  I feel quite worried about your grandfather's health.
What have you been telling your relations, please, about our plans.  I thought they were nicely settled.  Get married July 20th, sail away August 20th, just possibly return November 1910, leave again March 1911.  If you don't call that cut and dried far enough ahead, I can't assist you anymore.
By the bye, am I going to play with my wife in the doubles at Stow August 9th, 10th, and 11th or shall we be too busy or shan't we want to play.  You dear, you've given me lots to look forward to.
All my love,
Yours as always,
Robin
<>
May 4, 1909                                                                                                5 St Mark's Rd
                                                                                                                   Leamington
My dearest Robin,
Granny thinks it would be an excellent idea for you to come to lunch on Friday and escort me back.  Can you manage it?  If so, let me know your train.  As far as I can see you will have to come by Oxford and I think we should have to go back that way too.
I send you a letter I got from Norah last night.  I don't know if I told you I had thought the maidens would look nice clothed in green.  What do you think about it–not how they'll look but about the superstition?  I want your opinion uninfluenced by mine, so I shan't give you mine yet.  
Aunt Bo has made me send up my hand-writing to have my character told, so we shall see whether I am really energetic or not!  She says I had better make you send up yours before I tie myself to you, in case I have made a mistake anywhere!
Thank you so much for all those nice definite dates.  I didn't know you had quite settled on July 20th but I dare say that day is as good as any other!
I am glad you have been having such nice interesting talks with Auntie.
Everybody here has been bothering me about wedding presents and Auntie keeps writing to say somebody has asked her.  Aunt Bo suggests we should make a list of everything we want from a motor-car downwards and then people can select from that  It's rather a good idea, don't you think?
We hear Grandfather arrived safely and seemd pretty fit.  I do hope he won't sit in a draft or do anything absurd.  
I wonder if you will play tennis this afternoon?  It's lovely here but rather a cold wind.  I shall think of you disporting yourself on the court while I am having my cooking lesson!
We needn't decide about August 9th, 10th, and 11th yet, need we?  Of course if you play with anyone I shall expect you to play with me; and if I have to be packing up things of course you will be tying the strings or sitting on the boxes.  I am just off for the morning stroll by Granny's chair, even I almost have to hurry, the man goes such a pace!
My best love,
Yours ever,
Kathleen
<>
Evening Edition.  [May 4, 1909]
Of course I forgot to enclose N's letter this morning–Just back from the cooking class–have made a beef steak pie and an omelette
  K
[enclosure]
Donnington Manor,
        Moreton-in-Marsh.
              Sunday.
Dearest Kathleen
I thought I would write & tell you that Margie says you mustn't have green dresses for your bridesmaids as it is so fearfully unlucky; she says she had always heard so, & then Nora Dicken had green bridesmaids & her husband died ten days after, so it was conclusively proved.
Donnington was most successful  
<>
May 4, 1909                                                                                      South Hill Cottage,
                                                                                                               Stow-on-the-Wold.
My dearest Kathleen,
Of course I will come over on Friday to lunch and shall have much pleasure in bringing you back again, if your Aunt Bo comes back and they are going to let you go.  It's quite a treat to have something definite to look forward to, for I'm afraid I can't raise much enthusiasm about the tennis this afternoon.
The Morning Post had our engagement in yesterday and consequently today I have been inundated with letters from firms who want to supply me with bouquets, bridesmaid's presents, trunks, press-cuttings, and take my photograph.
The latter I shall probably have done sometime when I look less like a skeleton.  I expect you will get an inundation too.
I quite enjoyed my afternoon at Cheltenham.  I strolled about with Currie watching the boys play cricket in the afternoon, which reminded me awfully of Haileybury; and in the evening we went down to the East Gloucestershire Club ground, which is most beautiful at this time of year.  I thought of you and your hockey when I was there.
This is rather a coincidence, isn't it?  A certain Miss Verity came out to Kelowna just before I left who came from Cheltenham.  Her brother was out there and got married this winter.  She is still there and I gather that till she comes back, life is hardly worth living for Currie, although unfortunately she doesn't know it.  Money again!  If it hadn't been for money, you and I would have been married about four years ago, for I shouldn't have gone to Canada and should have given you no peace till you'd given in.  I never met Miss Verity, though I heard of her, of course, and saw her once not knowing who she was.  If she is still out there when we go, we will be nice to her for Currie's sake.
I am going to write to Mrs. Cleminson today (by request) to find out how she's getting on.  Currie is convinced she will get married and not come back.  I have my doubts myself, for he is the finest character I ever met (and I have got to know quite a number of men intimately at one time or another) and I shouldn't think that any girl could have much to do with him and then rush off and marry somebody else.
Today I go to the Club; tomorrow I go to Kitebrook; Thursday, exist.  Friday I see you, so just now I am living for Friday.  I have just hated this time that you have been away, dear.  It has been a very long time to me.  Of course, you are bound to go away every now and then this summer, if I am going to take you to Canada at the end of it; and I expect you to go, for your friends must see you; but I hate it, for all that.  I thought I should look forward to a game of tennis this afternoon, but honestly I don't.  Anything does, as long as it passes the time.  
If my love can make you happy, you will be very happy, but I have not much else to offer you.  I wish I had, you know.  I would love to give you everything you wanted.  It's rather a pleasure to a man to do that.
I think you'll have to come to tea here next Tuesday if it's fine.  I am awfully anxious for Nanny to see you.  Like a lot of old nurses, she treats me still as if I was a baby and the only thing that gives her any pleasure is to think that I am happy.  I owe her a lot, for she's been awfully good to me, and if it hadn't been for her and her cottage I wonder where I should have been now.  My best love to you, dear.  I'm longing to see you.
Yours as always,
Robin
<>
May 5, 1909                                                                                             5 St Mark's Rd
                                                                                                                Leamington
My dearest Robin,
I am so glad you can come on Friday.  I am looking forward to seeing you again most awfully.  It seems ages since the Broadwater concert, but I suppose it isn't.
I have been inundated too with letters from all sorts of shops, even to one which deals principally in second-hand tiaras!
I am so glad you enjoyed yourself in Cheltenham.  We shall have to persuade Miss Verity to return to her native land.  She seems rather badly needed.  I dare say she knows more about the matter than Mr. Currie thinks.  It would be strange if she didn't!
I am just in from another cooking lesson.  I shall be a first class performer one of these days!  Today I made some tomato soup which we are to have for dinner tonight and a fig-pudding for lunch tomorrow, also some Scotch woodcock.
Even if you had not had to consider the money question four years ago, I don't think you would have married me then; for though I cared for you very, very much, I am sure I did not want to marry you then.  I think too it is a great pity for girls to marry very young.  It must make some sort of difference and one's girlhood is too good a time to lose.  I have had enough of it now, but I would not have missed it for anything.  I don't think you would have been able to persuade me either, for I don't think one could be persuaded in that sort of case; or if one was one would still be doing it against one's will, for one's mind seems to make its own self up.  Really, this does not seem to refer to us, so I think I had better stop.
We hear Grandfather is keeping all right, so I think Friday will see me home.  How absurd of the Junction to have changed its name to Kingham!
I hope you got some good tennis yesterday.  I shall love to come to tea with you next Tuesday.  I want to make Nunnie's acquaintance  
Its blowing a hurricane today.  
I'm so longing for Friday.
With my best love,
Kathleen
<>
Wednesday [May 5, 1909]                                                         South Hill Cottage,
                                                                                                          Stow-on-the-Wold.
My dearest Kathleen,
I am glad you want my opinion on the colour of bridesmaids' dresses, for judging from Norah's letter it's my health that suffers, not yours, if you go and choose the wrong one.  Honestly though, I am not a bit superstitious (except one or two pet ones of my own) and you can clothe your maidens in any colour you like.  Who are they going to be?  I have forgotten who you told me.
I went up to the Club yesterday.  It was rather windy and a little soft.  Eight girls and three men only turned up.  Norah, Evan, Mabel Witts, and myself played together most of the time.  I was very hopeless to start with but managed to beat Evan in a single 10-8, chiefly because I had the best side, for I'm sadly afraid that yesterday one side won all the time.  We went on till about 6:30 and then I went down to the Pritchards' for dinner.  After the ladies had retired I thought that old Evan was trying to pump me about Harry's place, so I told him things about that and the country and the ease with which we make money out there that surprised him.  Then we went back to the drawing room and played poker patience.  They are rather experts.  Norah got 109 to end up with, of course with four discards.  I am going to play tennis with Evan this morning and then this afternoon go over and see Reggie.
I looked out trains yesterday and I do go by Oxford and get to Leamington somewhere about 12:30.  I can't tell you exactly at present as I am writing in bed and the time table is downstairs, but I will let you know how they go.
Of course I shall expect to see what sort of a character your handwriting indicates and if you don't show it to me I shall know that it's because it's so appalling you are afraid that I should be frightened away altogether.  I shan't have mine done.  I shall keep my character for you to find out in the course of time.  Think what a treat you'd have if after we've been married for some years you suddenly discovered a new virtue in me that you hadn't seen before.  I don't think it's a good thing that you should know all at once how really charming I am; but of course, my dear, if you think it would be interesting send the same man a sample of mine (you have enough) we will compare characters.
When we make out our list of wedding presents, what priced things get places 1, 2, 3?  Blank cheques or even the ordinary kind come in very handy, and duplicates don't matter.  No more at present.
My best love,
Yours as always,
Robin
If convenient I shall arrive at Leamington 12:49 on Friday.  We can get a train back 4:45 and get to Moreton 7:07.  How does that do?         
<>
May 6, 1909                                                                                            5 St Mark's Rd
                                                                                                                Leamington
My dearest Robin,
I stayed so late at my cooking lesson that I have not much time to write.  You will say I always make some excuse or other, but I am not good at letter writing.  Thank goodness it's the last for a bit!  Fancy my managing to write to you every day!
Aunt Bo has just got back, so I suppose all will be well for tomorrow.  
Of course I don't want to kill you off just immediately.  I believe the superstition includes any kind of ill luck.  Of course the example given may not have been ill luck, who knows!
Granny is still making many inquiries as to wedding present, and seems preparing to ask you all sorts of questions with regard to knives and forks and household linen so you had better think out some answers as to what you already have in that line.
I simply shan't write any more.  I shall see you tomorrow and that's worth all the letters in the world.
All my love,
Yours ever,
Kathleen      
<>
Thursday [May 6, 1909]                                                             South Hill Cottage,
                                                                                                          Stow-on-the-Wold.
My dearest Kathleen,
I never went to Kitebrook after all yesterday, but Geoff, Evered, Evan, and myself played tennis all the afternoon–at Stow.  We were none of us in very good form, and it was very windy as usual.
Your letter has just been brought up to me.  I believe you're getting really keen on cooking.  You will be doing these things for the pleasure of doing them, which is an admirable idea.
I hear rumours that they had a fire at Wyck Hill early this morning and burnt the billiard room and a bedroom or two.  I shall go over to lunch to Lemington today and see how they're getting on and tomorrow I shall see you again and then everything will be all right.  It has been dull without you.  It is quite extraordinary what a long time ago the Broadwood concert was.  Never again, please, do you go away for so long.  If you do you'll have to come back every few days just to pass the time of day with me.  
I shan't write anymore now as I shall see you yourself a few hours after you get this.  I feel like a schoolboy whose holidays begin tomorrow.  I hope you don't feel as if your holiday was just ending and tomorrow you return to serious work.
Best love, dear,
Yours as always,
Robin
<>
Evesham Journal, May 8, 1909
Local News
A marriage will take place in July between Robin H. Stubbs, second son of the late T. W. Stubbs, of Quar Wood, Stow-on-the-Wold, and Mary Kathleen Freer, daughter of the late F. H. Freer, of Kitebrook, Moreton-in-Marsh.