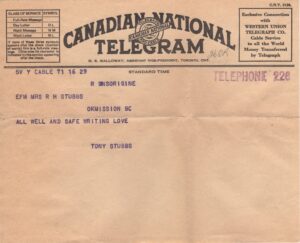 [Envelope postmarked Kelowna, October 27, 1943.]
CANADIAN NATIONAL TELEGRAM
5V Y CABLE 71 16 29
R SANSORIGINE
EFM MRS R H STUBBS
OKMISSION BC
ALL WELL AND SAFE WRITING LOVE
TONY STUBBS
<>
[Postmark:  FIELD POST OFFICE 539 * OC 26 43]
[The letters sent through Field Post Office 539 may have been written from Bournemouth—see RAS440129.]
Oct. 25 /43.
Letter No. 1
Dear Mother:
I hope you got the telegram long ago saying I had arrived.  I am staying where I expected to be comfortably housed in an hotel.  One of the messes is also in this hotel which saves walking in the rain.  I am favourably impressed by all I have seen so far.  I love the winding streets and the individuality of each building, the absolute cleanliness of the streets and the newness of the double decker busses.
In restaurants, instead of one cup of tea, you get about 2½.  Also it is much nicer to have lots of ersatz butter (which is indistinguishable from the real thing) on your toast than one minute pat.  We get quite a lot of clothing coupons to bring our outfits up to standard and I am sorry now that I got an overcoat in Canada.  There is a far better selection here with better cut and lower prices.  No foolish restrictions on pleats here.  We eat well in the mess except for breakfast which I usually miss anyway.  It is typically English and so perhaps more like I would get at home than at any Canadian mess.  I like it.  Of course anyone in the Services is far better off than the civilians.
I don't like the blackout.  It is easy enough to get lost in the daytime.  However one doesn't get faraway because busses stop at 9:00 and everything else is closed by ten.  Part of our hotel is still privately operated.  This is a restaurant and bar and here you can usually get gin and even scotch if you are early enough.  Of course there is always ale which I suppose I shall learn to like in time.
I expect a weeks [sic] leave soon and hope to spend part in London and part with Uncle Geoff.  I've written Peter [Mallam] and Dick [Stubbs] but have no replies yet.
I think you said I would be amused by the trains, particularly the freight cars.  I could hardly believe they are real; they looked more like toys and they still hook them together with a bit of chain.  The engines came in for a lot of comment too.  I like the coaches better than our day coaches.  We came down first class and it was very comfortable.
On Saturday night two of us tried to find a fairly secluded bar we had seen earlier in the day and by the time we got to the place there were no spirits left.  We started on beer then a mixture of sweet and dry vermouths.  Several of these and then some Curuçao with a little Kűmmel which was rather expensive.  Afterwards we gate crashed a dance at the American officers [sic] club and took of [sic] the girls home.  Then yesterday we went out to tea with them and later had a sort of cocktail party with some more guests who arrived.  They lived in the more expensive district right beside the golf course and it was very pretty out there.  We were lucky in being able to get a [sic] taxis both ways because it was quite a way and to come home through that maze of roads in the blackout would be quite impossible.
The[y] say last week was unusually wet but it is often worse in Vancouver so the rain may not bother me but the cold will.  That is why I sleep in so often.  Yesterday we slept thru a church parade and they had a rather accurate roll call.  I wonder what will happen.
With love from
Tony.
<>
[Postmark:  FIELD POST OFFICE 539 * OC 28 43]
ROYAL CANADIAN AIR FORCE
#2
Oct 27 /43.
Dear Mother:
We aren't doing much this week—just things like drawing flying kit, testing gas masks and such like.  My weeks [sic] leave starts on Saturday.  Still no word from Peter [Mallam] or Dick [Stubbs] so the mail service can't be very good.  The alarm clock arrived today.  Its long trip must have disturbed its mechanism because it runs very fast set at full 'slow'.
The place we stayed at in the States was not very comfortable.  Their barracks don't compare with ours, the walls being unlined, no central heating and washrooms in separate small buildings.  Meals were frightful and eaten off one of those trays divided into compartments.  However all this was bearable so long as we could get away in the evenings but so many went AWL to quite distant cities we were C.B.ed for awhile.  When this was lifted we went to Boston for an evening but wasted most of this by going to a show and then quite a long way by tube to a restaurant near Harvard U.  By the time we got back all the bars were jammed and we had only time for two drinks before catching the bus to camp.
We had a good trip over, travelling in considerable comfort if slightly overcrowded.  I believe the sea was unusually calm so than none whom I know were sea sick.  In fact it would be hard to be on such a boat.  It was a colossal gambling den; all day our lounge was a mass of poker and crap games.  In the crap games Can. funds were at par with U.S. and the £ went at 4.00—all funds seemingly equally welcome.  The games were often large—one U.S. major made $1800 one night.  Also chess was surprisingly popular and I had several games as relaxation from poker.  American cigs sold at 200 for 50¢ and in addition everyone was given 400 free so I wished in one way I had some spare room for a supply of them.
I say one way because the worst part of the whole trip was that we had to carry all our baggage on and again off the boat.  This meant a trunk, an overstuffed Gladstone, gas mask, cape, filled water bottle, and two overloaded haversacks.  I must have been carrying almost my weight in baggage and although we did it in short spurts with frequent rests it was a real ordeal.
Travelling [sic] on posting in England will be quite a trial too because you have to get your own baggage out of the baggage car etc.  And soon I will have two more kit bags to look after.
Well its [sic] almost time to wander down to the lounge for sandwiches.
With love from
Tony.
<>
[Postmark:  FIELD POST OFFICE 539 * NO 9 43]
Nov. 8.      #3
Dear Mother:
I am just back from my leave.  I never got an answer from Peter [Mallam] or Dick [Stubbs] before I left but wired Peter the day before I went up to London.  It was the very day he got his commission and nine days leave so we met.  I got in at noon and didn't see him till the next morning so during that interval I saw a little bit of those parts of London that one normally does.  After that it was a practically unbroken and rather expensive party.  We went to lots of places and nearly always by taxi so I have no better idea of my way around London than before I went up.  But Peter knows his way about.  Various clubs, Indian restaurants, Chinese cafes, special waiters at the Regent etc.  The second night we stayed with a Harley St doctor.  I think his wife is related to the Aclands.  She has been in Kelowna anyway.  They had a most palatial apartment on Baker St.  Three bathrooms and that is something in this country.  The next morning we went for a stroll the Mews with the doctor's wife, a pram, two children and two dogs.  What with one child getting its head stuck in the iron railings trying to get a cat, the temporary loss of one Scotty and me taking the salute from about five flights of I.T.S. students it was quite a morning.
One night we danced at a very posh place called "the 400".  One of the girls we took was a member and that is how we got in.  It is one of the few places that stays home [sic] to all hours.  Most places including theatres and tubes close about 10:00 and private clubs at 12:00.  One afternoon Peter sent off a telegram so perhaps you already know we were celebrating together.  On the last evening we had supper at Kepinski's, a quaint spot with rather unusual methods of cooking.  For instance pancakes.  A brazier is wheeled in beside your table and they are cooked in burning brandy and still flaming are dished up onto your plate.  Music was supplied by a singing piano player who was as mad as the culinary methods.  There is supposed to be a 5/ limit on meals but the bill here for three of us was £2-10.  I suppose the rest was cocktails.  This was Wednesday night and the next day I went up to Ditchford.  I had phoned Uncle Geoff [Freer] earlier in the week saying I would be along on Wednesday and he said to wire time of arrival which I did Thur. morning.  But they met the train on Wednesday anyway.  I meant to look up Uncle Tom [Stubbs] in London but the opportunity did not arise.  At least it didn't seem advisable.  Starting now on the next letter.
With love from 
Tony
<>
[Postmark:  FIELD POST OFFICE 539 * NO 9 43]
Nov 8 /43 #4
Dear Mother:
Continuing on with my leave (it is now Thursday in case this letter beats #3).  Uncle Geoff [Freer] met me at the station and we drove back for tea.  The rest of the family and an attractive girl friend of Valeries [sic] staying there were in Stratford until about supper.  I like them all very much but it was no rest cure.  Everybody works hard but I was in time for breakfast getting up about nine.  They lent me some of Dicks [sic] pants and gumboots and Doreen, Valerie and I started in to dress wheat.  This meant emptying 200 lb. sacks mixing in the mercuric powder and sacking up again in two smaller sacks.  Valerie gets us started and then rides away on her horse after the cattle.  Comes back in two hours and reprimands us for not having finished.  What a slavedriver.  I made her bring over 2 large sacks for that.  The afternoon was easier.  I drove one of the tractors and finished harrowing one field in the afternoon.  Aeroplanes were buzzing around (not low) but I thought of how some of the instructors at SFTS used to make tractor operators dive overboard for safety.  At supper I said I had to go back the next day which surprised them not knowing I had been so long in London.  I can imagine what cousin Val was thinking.  I saw more of Doreen than her because that night she went to a meeting of the Girls Training Corps in which she is a 2nd lieut. and on Saturday morning she went fox hunting soon after breakfast.  Uncle Reggie [Freer] was over on Saturday morning and he Uncle Geoff and I put in the morning bringing in some cattle and dressing more wheat.  I had to rush off right after lunch promising to be back at the earliest opportunity.  And so I will but I don't expect any more leave while I am stationed here.  Between trains in London I phoned Peter [Mallam] at the club.  He had just left, on his way to a party at the Windmill.  Financially and in other ways I don't know how he does it.
I had a letter from Dick [Stubbs] today.  He has put in for leave Dec. 1 so I hope we can manage something then.  If I am still here I should be able to wangle a few days but can't say yet.  I haven't heard from you since leaving Canada.
With love from
Tony
<>
[Postmark:  FIELD POST OFFICE 539 * NO 17 43]
#5 Nov 16. 1943
Dear Mother:
I got a [Kelowna] Courier yesterday which is the nearest approach to a letter from home yet.  I don't know where all mine has gone this time as some people are getting mail as recent as Oct 26.
We are back to ground school again—more to keep us busy than anything else.  We don't like it—missing our morning coffee at the cafe nor the strict manner of the schools [sic] operation with no privileges and an almost hourly roll-call.  Also we Canadians cannot get used to their climate which is the same indoors as out.  It is alright to wear greatcoats outdoors but we have to keep them on all day in the classrooms as well.
I went to a good play tonight—a French comedy.  They play for a week here and then go onto London.  It is hard to imagine why this place with so many Canadians should be used as a testing ground.
Dick [Stubbs] is trying to get leave for the first week in December.  If he is successful I shall have to wangle some myself but I expect that will be difficult.
I forgot to mention that up in London I saw Bob Knox.  Peter [Mallam] and I went up to his office but as he was extremely busy we couldn't stay longer.  He seems to like his work and it takes him on occasions all over the Br. Isles.  In fact he was flying to Scotland that night so we couldn't arrange a party.
We had an alert last night which got us out of bed and dressed at a very cold hour of the morning.  We could hear one Jerry and considerable ack-ack but the all-clear came before we were outside the building.
On Sunday four of us took a short train trip to the only large nearby port and spent the day wandering around.  The downtown area had been badly bombed out.  Walking around London where I did you did not notice particularly that there had been much bomb damage but here it was very evident.  We had an excellent lunch here after a few double scotches and gins to warm us up after the bitterly cold train.  You get used to mixing drinks over here because the scotch runs out very soon after opening the bar.
If we fly again before Christmas we shall be lucky.  On the other hand a Nissen hut probably in Scotland doesn't sound very appealing does it?
Tomorrow is supposed to be the latest day for shipping off Christmas cards so I had better get busy as I haven't started yet.
With love from
Tony.
<>
#6 Nov. 19. 1943
Dear Mother and Dad:
I hope this will arrive in time for Christmas even though it is two days after the last mailing date.  It has been hard to get Christmas cards.  Except for the enclosed they are all RAF despite the fact that this place is all RCAF.  As usual I have left everything to the last minute.
I hope you are getting mail from me O.K.  I certainly aren't getting any fropm ;your side.  Soon I shall give up even asking for mail.
We are beginning to get fed up here.  It is the ground school that does it for we learn almost nothing—its [sic] only to keep us busy.  Roll call is hourly and so when some of the boys missed a lecture they were caught and had to report for six nights every half hour for three hours.  We had link for two days which was useful and also this building is kept reasonably warm and you are allowed to go down town when not busy.
Today we had swimming in an indoor pool.  Temp of the water was 73 so I got warm for the first time in days.  They want us to be able to swim three lengths but not many of us did and I'm afraid several had their names checked off as having done so when the only water they had touched came from the hot shower.
I've spent the last two days operating on the alarm clock and have got it just about back to normal.  I had one cog left over at first which didn't seem to make any difference but I found its home anyway.
[Aunt] Dorothy [Freer] hopes that if Dick and I can get leave Dec 1 we shall come down to Moreton-in-M[arsh].  Just in time for the pig killing and hence lots of work, she says.  Now what were some of those other addresses.  Oh well—probably won't get leave anyway.
We had a talk from two OTU officers one day.  They said they were here to build up our morale but about the only thing I remember their saying is that even we G.R. trained pilots will go, along with everyone else, onto heavy bombers.  Looks like I may never get my Sunderland.
Merry Christmas to all of you.
With love from 
Tony.
<>
[Postmark:  FIELD POST OFFICE 539 * DE 3 43]
#7 Dec 2. 1943
Dear Mother:
I am afraid I have been forgetting my correspondence lately.  Too little to do and too little happening I suppose.  I am very glad to say all your letters have turned up—several that were posted to Y depot and consecutively up to 4 of yours, one from Mary and the photograph.
Dick [Stubbs] was down here last weekend.  It was the first time I haven't had to parade Sun. morning so we nearly went up to London but as we couldn't leave before 4:00 pm Sat. it didn't seem worth it.  So there wasn't much to do except pubs, the odd show and talk.  He looks just the same.  Uncle Geoff [Freer] said he thought Dick would never want to go back because of the trip accross [sic] but that is entirely wrong.  I still have only the vaguest ideas of what he does.  It is something special that I have never heard of and presumably won't for some time.  Part of their job is to climb a 250 foot radio tower to clean the insulators.  I don't think I would like that.  [Dick was working with a newly-invented top-secret technology called RAdio Direction And Range.]  
The day before Dick arrived I asked the ground school adjutant for the day off.  He was absolutely rotten.  Said I would have to bring Dick in in person.  That sounded like a lot of trouble for all three of us so I said I had a letter saying he was arriving.  Adjutant thought it might be forged.  I have never been so angry and turned on my heel and walked out.  When I had cooled down I planned to go up with with [sic] Dick the next morning, get my day off and then demand an apology.  Unfortunately our class was sent off to another building some distance away for the morning so although Dick was there, I was not.
The incident appears closed but I have no compunction about missing parades now.  Yesterday thirteen of us formed up as a flight and marched away from the school passed [sic] the S.P.S. and through the gates.  Of course we were missed on the next roll call and usually this means parading before the adjutant the next day but somehow this didn't happen.  What a pity!  Oh well there is only 1½ more days of it.
With love from
Tony.
<>
[Postmark:  FIELD POST OFFICE 539 * DE 3 43]
#8 Dec 2, 1943
Dear Mother:
We are feeling hungry tonight so I took a last look through my trunk and found one chocolate bar.  This is the second time I have done this but I think it is definitely the last.  Now we are going to try and heat up some K rations.  I brought over a lot of cigs and still have about 800—mostly American.  Some chaps have recently arrived who were in our course at G.R.  But they have completed their training at Canadian OTU and are crewed up.  So you can see how much time has been wasted.  Another arrival is an instructor I knew at Prince Albert.
Also one night Dick [Stubbs] and I met another Yellowknife acquaintance of mine.  He has been eating at the same mess as I for weeks.
I have been swimming twice now—the second time for dinghy drill.  This was OK once you got into the water but you can imagine how cold and clammy the flying suits were to put on as they had been used in the morning and this was after lunch.
Next week I shall get started on an attempt to wangle some leave.  Dick seems very keen on Uncle George [neither of Tony's parents had a sibling named George but Tony's mother had a maternal uncle named George Dawkins who would have been about 90 years old in 1943] and gave me his address so I will certainly look him up as well as Uncle Tom [Stubbs].  I saw that Lady Bertha Dawkins had recently died.  A distant relation I believe.
I went to a play last night.  It was another French comedy but being only local talent not as good as the other.  The first didn't get very good write ups by the London papers so I guess I'm no connoisseur of plays.
You don't seem to have done very well with the pheasants this year.  I can imagine it would require steady nerves when shells are so limited.  I am going to do some skeet shooting on Sat.  That will be a waste of .22 shells—at Prince Albert I din't hit the clay pigeons at all.
Oh no, I didn't need the overcoat on the way over.  It was so warm one rarely needed a coat at all.
We finished the K rations.  Delicious but the hot water didn't really warm the stew up sufficiently.
With love from
Tony