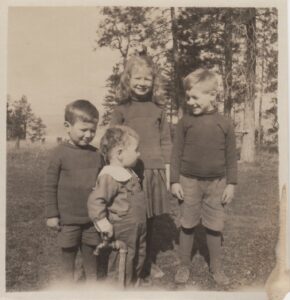 On August 29, 1917 the Canadian Parliament passed a bill allowing for the conscription of men between the ages of 20 and 45.  The first stage of implementation of this bill required all single men between the ages of 20 and 34 to register by November 10, 1917.  Almost everyone who registered applied for an exemption, which could be granted on various grounds, including ill health or employment in a vital industry such as agriculture.
Against this background, Robin volunteered for the Royal Flying Corps.  As a married farmer with four small children, he would not expect to be sent overseas.  By November 1917 he was at the Recruits Depot which had been set up at Jesse Ketchum High School on Davenport Road in Toronto.  Once inducted as a private, he was posted to a camp at Deseronto, Ontario, halfway between Belleville and Kingston, at the eastern end of Lake Ontario.  The main business at Deseronto was to train pilots for the Royal Flying Corps.  Robin may have hoped to learn something of aeroplane mechanics, but he was put to work as a teamster, caring for a team of heavy horses and freighting with wagon or sleigh, depending on road conditions.
On April 1, 1918, the Royal Flying Corps and the Royal Navy Air Service were amalgamated into the Royal Air Force.  Soon afterwards, Robin was transferred to another flight school, this time at Beamsville in the Niagara region, halfway between Hamilton and St. Catherine's.  Again he hoped to be trained as a ground crew "rigger", but instead he was assigned to the Quartermasters Stores and reunited with the horses he had driven at Deseronto.  He remained at Beamsville until the end of the war.  He was discharged in December 1918 and was home in Kelowna by Christmas.
During his war service, Robin wrote, by his own estimation, over 200 letters to Kathleen.  Of these, about 60 survive.  They fall into three groupings:  March 31 to June 5; October 3 to 14; and November 12 to December 18.  In transcribing these letters I have tried to reproduce the vagaries of spelling, grammar, and punctuation and have usually marked Robin's errors with a bracketed italicised "sic", thusly:  [sic].  However he was so inconsistent in his use of apostrophes and commas that I have not sicced most of these errors.  
I infer from these letters that Robin and Kathleen were living in Benvoulin at this time but had already purchased the property on Crawford Road in Okanagan Mission where they lived for the rest of their lives.  There are many references to a place called "upupome", which I believe means the Crawford Road property.  There are also references to a "little 'ouse", which I think means a shack on the lake shore in Okanagan Mission which they used as a summer camp.  It appears that they also owned a run-down house in Kelowna which they rented out.
Robin and Kathleen's four children were Mary (born April 1910), Archie (January 29, 1912), Tony (Feb 10, 1914), and Dick (July 11, 1915).