MANNING DEPOT
EDMONTON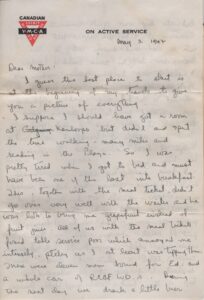 CANADIAN Y.M.C.A.
ON ACTIVE SERVICE
[Edmonton]
May 2, 1942
Dear Mother:
I guess the best place to start is at the beginning of my travels to give you a picture of everything.
I suppose I should have got a room at Kamloops but didn't and spent the time walking—many miles and reading in the Plaza.  So I was pretty tired when I got to bed and must have been one of the last in to breakfast.  This, together with the meal ticket, didn't go over very well with the waiter and he was loth [sic] to bring me grapefruit instead of fruit juice.  All of us with the meal tickets found table service poor which annoyed me intensely, ptclry [sic] as I at least was tipping them.  There were eleven men bound for Ed. and a whole car full of RCAF W. D.s.  During the next day we drank a little beer but the trip was quite uneventful.  Arriving at 9:30 we were all hustled into a car and driven out to the barracks to the Arena building (where I used to see hockey games) where we got our blankets.  Then we were allotted to a hut and beds.  Afterwards we wandered over to the Airmen's mess to look it over and I met Henry [Hobson of Okanagan Mission].  Saw him again at breakfast but not a sign of him since so I wonder if he has gone.
I have really no idea how many men there are around here but I would guess 1800—quite a bunch to feed all at once.  It works this way.  You pass down a long counter (buying a pint of milk if you like on the way) where you pick up knife fork spoon & cup, then a plate of food, then dessert (if pie it is slapped on top of the first cours [sic]), then pause momentarily to pick up a bowl of soup and have your cup filled.  Then try & find a place to eat while carrying the assortment you have picked up.  Going back out each article is put by you in a different tray from where it goes through the automatic washers.  Quite a good system.  The food is O. K.—better than Yellowknife and a chap who has been in many army camps says the army does not begin to compare.
The Airmen's mess building also has reading room, writing room, wet and dry canteens, poolroom, table tennis, and barber shop.  All very nice which is all very nice as we new arrivals are CBed for the first 8 days.  After that we have leave from 5 to 10:30 every night and 12:00 twice a week.  Two of the boys could not wait that long and went over the fence last night.  They came back at 2:45 and were seen by the guards.  When he said "Halt" they took to their heels and got away O. K.
Thursday morning was spent being interviewed by various clerks such as for pay allowances etc and drawing our kit—the latter being down [sic] on the assembly line principal.  All afternoon we burnt and polished buttons and marked our clothing.  After supper I played some table tennis and had a little beer.  That was that day.  Lights are out at eleven and we must get up at 6:30, fold blankets just so, sweep and scrub the floor immediately around the bed etc.  Quarters are not too crowded but it is advisable to get to the basin on the dot of 6:30.  The majority of beds have a locker and you can expect to see the suitcase back fairly soon.
On Friday morning we were paraded for dental inspection where we had our teeth charted for future work.  I got through this about as good as any altho I haven't been near a dentist for 2 ½ years.  In the afternoon we were given 5 inocculations [sic] and a blood test (at which several fainted) and then we were taken out and given our first real drill.  So far we are pleased with the corporals instructing us particularly and easy going Englishman we had yesterday who seemed to give us many breaks for smokes.  After supper there was quite a display in the Arena open to the public—boxing and wrestling etc.  But best of all was an exhibition by our precision squad.  Some 150 different movements all perfectly timed without a word of command from the time of entry until they all left the arena.  I only saw one small error by one person.  It is probably worth while trying to do well enough to be picked for this as it takes about 6 weeks guard duty off the length of the course and relieves them of all fatigue duty.  They do nothing but drill all day.  Nevertheless it must be quite a nervous strain if on exhibition.  Saturday was spent having our reaction to inocculation checked and in drill.  At present we are in D squadron.  Next Saturday we should (but may not) proceed to B or C which are the same where we get more complicated drill and some fatigues.  Then to A who are the chaps waiting to leave.  They do most of the fatigue work.  Then comes a six weeks step which I thought was part of I. T. S.—being guard duty or general duty gassing planes etc.  So it is going to be longer than I figured before I climb into a plane.  I played some table tennis after supper—quite good games and a game of pool.  The latter was against a Phi Kappa who was a good friend of Dick's and recognised me from a photograph he had seen.  There are a few others here I knew before a U. B. C. Phi Kapp who joined a month ago and Carruthers who was at the Hawkshaw's cocktail party on Boxing Day.  Sunday morning is the worst of the week.  Inspection by the C. O. commencing at nine.  Before it was over at 11:15 three men had been carried off.  I guess most of us aren't used to standing so long without taking more than a few steps.  A dull church service tops of [sic] the morning and the rest of the day is ours.  I spent the afternoon playing bridge in our hut, supper at 4:30 and now this letter.  Tonight I will see a show in the Arena "Deanna Durbin in "A Thousand Men and a Girl".  
My uniform fits very badly but I hope to have it tailored tomorrow so that it fits perfectly.
First impression of the RCAF—Seems OK, no complaints.
With love from
Tony.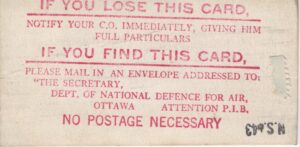 <>  
CANADIAN Y.M.C.A.
ON ACTIVE SERVICE
[Edmonton]
May 8, 1942
Dear Mother:
I think my last letter covered up to sometime on Sunday.  All Monday was taken up mostly with drill except that we had our first P. T.  This is for 45 minutes five times a week and is tough.  I suppose one gets used to it but they don't seem to think about breaking us in gently.
I got my uniform back form the tailors at noon on Tuesday and it fits quite well.  Perhaps that is one reason why I was selected that afternoon to be one of the three markers for our flight of 45 men.  So far there are only two occasions when the markers do anything different than the rest.  At the command "Eyes right" the markers turn right, march off 5 paces, about turn, dress the line, and march back at command "eyes front".  The other occasion is less responsible and is simply to get us out of the way while the ranks are sized in order of height.
On Wednesday morning I had my first wireless class.  There are 48 buzzers in the room which make quite a noise as everybody tries them out.  I have been trying to learn the code and there are about 9 letters yet that I don't know.  We will have to be able to do 5 words per minute after I. T. S. 8 after "elementary" and 12 after S. F. T. S.
On Wednesday evening I had a couple of games of chess.  I was beaten but only because I was accustomed to being told if I was moving my queen into danger.
On Thursday we had more wireless and P. T. in the morning but the afternoon was our sport day.  I chose to play volley ball which was alright at first but we played over 2 hours with only a ten minute break and a few muscles are still complaining.
Thursday was quite a gala day for we got our important EE cards which permit us to leave from 5 to 10:30 every night.  I was very lucky to get leave last night and not later because Doug. Sharpe was in town on embarkation leave.  He is a pilot officer observer and after a short course in Toronto on astral navigation he is going to navigate a bomber over to England.  I rushed down town right after 5:00 and met Doug and another mutual friend in a beer parlor.  To my mild relief Doug wasn't in uniform but when Frank Layton and I met him again after supper at his wife's peoples house he had it on so I put a "sir" into my greeting.  The whole situation was rather amusing for all of us partially because I used to go out with his wife quite a bit when at Varsity.  There were quite a few old Varsity friends there, one of whom was the former Sheila Stewart who played tennis in the Kelowna tournament one year.
This morning our flight was singled out for fatigue duty.  Its only blessing might have been "no P. T["] but for at least five of us it was a holiday.  We loaded and unloaded one truck load of storm windows and moved a small pile of 2×4 about twenty feet.  This didn't take long but there was nothing more to do so we were told not to go to our huts but to get out of sight of the "Works & building office" where we were.  If we were asked what we were doing we were to say we were looking for ladders.  I spent most of the morning in the recreation hall watching snooker and memorizing the code.
By the way the C???????? I mentioned should have been, of course Wally Meikle.
I was supposed to go out with Dick's friend to have supper with F/L Prieur tonight but it fell through.  He is the medical officer here and a fraternity brother.
Tomorrow morning we compete in drill and dress against two other flights, the winner getting the afternoon off.  The first flight have had several more days of drill than us so we really haven't much hope particularly as our corporal is going on a 48 and we will be drilling to a strange voice.
I am awfully glad Peter [Mallam] has got his sergeant's stripes.  I must write him a letter write [sic] away.
With love from
Tony.
<> 
RCAF
[Edmonton]
May 18, 1942
Dear Mother:
I have just learned that starting tomorrow night our hut is on duty watch for a week which means light fatigues from 6 to 10 each evening.  I think the chief idea is to keep somebody in the station in the evenings which means not much time for letter writing.
Dad asks if we have spring beds.  Oh yes we have double decker spring beds and a sheet parade once a week.
On Saturday 9th we had our drill contest.  Of the three flights we were 2nd but had been here the shortest time.  Afterwards we moved up to C squadron now called No 3 Wing due to a reorganization.  This necessitated moving to a new hut slightly closer to the mess hall but much more crowded and with less wash basins.  Something was wrong somewhere for the next day we moved to another hut, two huts farther from the mess but otherwise the same.  I now get up at 6:15 so as to be sure to get a place to shave in time.  Lights out is 11:00 so you can see I never get more than seven hours sleep.
On Sunday we had another tiring inspection by the  C. O.  This was the last of them though for they now take place on Saturday morning.  Also church parade is no longer compulsory provided you are away from the depot by 8:30 so that Sunday is more like a holiday but you still cannot sleep in.
Our usual daily program now starts with falling in at 8:10 and drill not too strenuously until 11:00.  Then P. T. till 11:45.  Recently this has not been as strenuous either—I think too many must have been complaining.
After lunch we have a wireless class and drill or some sort of lecture until 4:30 when the working day is over.  In our new wing drill seems less strict and ten minute smokes last half an hour or so.  I get the impression that all we have to learn here could be done in half the time.
We have had two route marches so far.  I enjoy them more than drill as there is something to see and we can march at ease.  The only thing we have to do is keep in step and that is easy as there is always a drummer on these occasions.  We are only out for a couple of hours also.
Thursday was pay day and quite an ordeal as the whole depot is paid on the same day.  It means shuffling along in a slow moving line for an hour or so if your [sic] lucky.  It is a wonder it comes out right as we just covered the whole floor of the arena.
I still have my position as marker when we fall in in the morning when our C. O. is in the parade ground but during the day we change around so as to give all of us experience in various positions.  One day I had to march our flight over to the P. T. field.  It is good to get experience now as we all have to pass drill tests at I. T. S.
On Thursday Dick's friend and I had supper with F/Lt Prieur and his wife.  There was another fraternity brother there who is an instructor at the observers school.  I hope that one day he will be able to find room in a bomber going to Vancouver when I get my 72-hour pass in the next wing.
We actually had a little snow and 20 degrees of frost on the night of the above supper party.
With love from
Tony.
<>
RCAF
[Edmonton]
May 24, 1942
Dear Mother:
This is certainly a contrast to any May 24th I've ever had before.  I spent most of the morning cleaning up the sergeants' mess and my respect for sergeants, never very great, is now zero for the place was like a pig pen after a rowdy dance they had the night before.
This work was part of my duty watch.  Every night this week has meant roll call at six, picking up paper around the grounds or some such work for an hour or so and reporting back for roll call at 10:00.  I usually spent the interim time drinking beer.  One night I went to a math class chiefly to get out of duty watch and brushed up in some trigonometry I've forgotten in the last ten years.
On Friday 15 I got a late pass.  I was on my way over to the orderly room with some sort of story in my mind (which I now realise wouldn't have cut much ice) when I meant [sic] the medical officer.  He went to bat for me and did all the talking.  I don't know what he said but I walked out with a 1:30 pass.  Then I looked for my flight to report back for more drill.  The flight must have been having a smoke in some secluded place for I never found it so I took the rest of the afternoon off.  The late pass was just for a get together at the fraternity house.
The following morning was another tiring inspection by the C. O. followed by a route march.  The afternoon was another sports day and this time I selected football.  There were so many people playing it was easy to wander off at any time for a rest.
Sunday is now more of a day of rest and at the instigation of the padre church is no longer compulsory.  However I found too late that for this to be operative you must be off the depot by 8:30.
After lunch on Sunday (17) four of us went riding.  The horses weren't very good but it was a very pleasant change and surprisingly cheap (75¢ for two hours).
Twice a week our squadron raises the ensign.  This means getting up a little earlier, dressing in blues (instead of fatigue pants) and a route march afterwards.  Other mornings are spent in drill with the usual P. T. just before lunch.
Wireless classes have been cut out in the afternoon but you can go three times a week at night if you so desire and aren't on duty watch.
On Friday afternoon (22) are [sic] whole flight was paraded for haircuts.  This was fine and we played pool while we waited.  I have to have a haircut every week.  After this parade we marched over to stores to draw our summer uniform.  We are not allowed to wear them yet but can make a head start on the buttons.  These uniforms hold their press for about half a day and no one is very pleased with them.
On Saturday we had our first rifle drill and I guess we will be doing it all next week.  Technically we should be thru our 21 days in the training wing next Saturday and move up to the disposal wing but you never can tell.
Last night about 220 men, tired of duty watch or CBed for other reasons, went over the fence.  A lot of this was in broad daylight but the guards usually look the other way as they will be doing the same thing next week so the responsibility fell more on the special police.  A greater attempt to catch them was made on their return and several were caught.  Also a bed check about 12:30 caught more despite beds made up and padded with overcoats etc.  We will probably hear more about the outcome tomorrow.
With love from
Tony
<>
Wings Club
PHONE 26347
10127 102ND STREET
EDMONTON—CANADA
June 8, 1942
Dear Dad:
You must have begun to wonder what has happened to me for my memo diary shows it is a long time since I last wrote.  This lapse in writing is partly due to a 96-hour pass terminating at 6:30 this morning during which time I travelled to Vancouver and back.  But more about that later.
Last time I wrote I was just finishing duty watch.  The following week we did a great deal of drill and towards the end mostly with rifles—old Ross guns that haven't been cleaned since the last war.  During this week the weather was bad—cold and much rain.  On Thursday it snowed so hard all morning we were kept in our huts and in the afternoon drilled indoors.  During a lull in the snowing we were moved to a new hut—number 11, our closest to the mess house for there was only #12 and the hospital buildings between us.
Tuesday night was the first night I was allowed out after dutly watch so despite heavy rain I pushed off to see Cliff and Kay.  It was a very interesting evening so that at 10:00 I suddenly realised I had ½ hour to get home.  I just made it but didn't have to take a street car.
Nothing much happened over the weekend of May 31st.  Two of us went for a walk around the university grounds and were [sic] I used to ski.   Except for the addition of a few air force buildings there is very little change.
On Monday June 1 we had our longest day of drill.  This was to prepare for a drill test the next day which was supposed to decide whether or not we moved to the disposal wing.  (I have never heard of any failures).  Then on Tuesday afternoon four flights of us were put thru our paces by the C. O.  We carried rifles all the time which was very tiring but apparently we didn't show this and must have looked better than ever before.
With the C. O. was an officer from Ottawa, head of all the manning depots I think and after he had gone the CO said we had done very well and he gave us a 96-hour leave.  (Previous classes got 72 hours but so many come form Vanc. and had stayed AWL an extra day.  I suppose the authorities decided to bow to the inevitable.)
Our leave was to start on Thursday 6:30 am.  We had hoped it would be a day later so that we would not have to spend a Sunday on the train but it could not be helped.  
Wednesday was a very slack day.  We had a photograph taken of the flight, moved to another hut (#1 this time—the far end of the line) and paraded for our passes.
At 4:30 we left for Calgary—43 of us on a special bus.  Travelling via CPR got us into Vancouver Thursday night instead of Friday morning.
Of about 96 men getting leave nearly 40 went to Vancouver.  We had arranged for a special day coach which was attached in Calgary.  It was the dirtiest coach I have ever seen—couldn't have been touched for months.  We complained loudly but no one seemed to have the authority to make matters aright.  About half our number moved out that night and found other places and by noon the next day but three remained—why I don't know for there was lots of room up ahead.
I stayed at the boarding house in Vanc.  It was a grand holiday and all too short.  On Friday I looked in at the office and had lunch with the boys.  No one had left since I but quite soon about nine are leaving for various services or govt. jobs.  On the way home I got a berth on the train.  This sitting up at night is no good and knowing that the next night would be spent on the bus it was a good investment.  Nevertheless I am still trying to catch up on my sleep.
Now we are waiting to be posted to another station and during this time are supposed to do a lot of fatigue work.  So far I have escaped with about an hours work cleaning a hut but this state of affairs won't last long.  They have started the wireless classes again which I hope to attend regularly.  Everybody says it is most important to know your wireless before you get to I. T. S. for you haven't much time there.
The elementary flying school here is practically close dup as the airport is taken over by Americans and lately a large number of planes have been passing through such as Flying fortresses, Consolidated Liberators, P. 38 and 40's.  I would like to get out to the airport and see these planes on the ground some day.
What extraordinary flood conditions you are having.  With such little snow in the winter I would have thought no amount of rain could do much damage.  I am afraid I didn't see Peter's picture in the Toronto star [sic] but I will try and get a copy in town.
A chap who used to be in our office and in my year just finished I. T. S. at Saskatoon with an average of 92.1 and second in his class.
Many happy returns for your birthday.
With love from
Tony