IMPERIAL ROYAL FLYING CORPS.
CANADA
Oct 3rd 1918.
Thursday
Darling,  Sorry you've been having a trying time with the kids.  You must have your handsful [sic] on occasion.   I wonder how you get through it all.  I hope they're alright again by this time.  Isn't it funny how our letters cross.  My letter suggesting gramophone records for Christmas must have passed yours somewhere by Winnipeg telling me about the books you thought you'd give me.  They sound as if I should get more entertainment out of them than out of the records.  I hope they're a success as they should be quite interesting.  But you'll never remember to dig out the $3 a month for 16 months.
We haven't got any Spanish Flue here yet.  It seems to be taking a very mild form from all I can read.  I hope it doesn't start here for we shall be quarantined which will be beastly.  Nothing to do in the evenings except mooch around the camp.  They're building a big recreation room & canteen but it won't be finished for a long time yet so there's nowhere to sit.  We're moving into our new barracks on Saturday afternoon which I suppose will interfere with my going to Hamilton.  Yesterday afternoon Duff & I & 2 cadets took a load of wood down to the Hostess House & they gave us afternoon tea which was rather nice of them.
Doris F [?] was there, she goes in to help 2 or 3 days a week.  The funny part of [the] whole thing was that the adjutant was having tea with Mrs. Forster in the front while we were all having a cheery time in the kitchen.  He must have known we were there but couldn't say anything as it was Mrs. Forster who asked us.
I don't know if you remember a thin fellow who used to be Hudson's assistant before Whillis joined him.  I think his name's Sorberry or something like that.  He's going through here now as a Cadet & gets his commision [sic] next week.  I had supper with him the other night.  He left Kelowna about 6 years ago.
Duff puts [sic] in his application for discharge yesterday.  There are a tremendous lot in & everybody's speculating about when they'll come through.  I wish I could think it would be the end of this month but I shall be very surprised if it is.  I quite approve of your plan of coming up to Vernon "toute suite" & only hope the roads won't have got too bad by that time.  If they are praps [sic] you'd come by boat.  If you come in the car you'd better bring my great coat as I doubt whether a grateful country will include a great coat with the civvy outfit they give me.  It seems funny to be making plans like this; there's nothing like looking ahead.
I do pity you splitting wood.  Thats one of the jobs that you're not cut out for.  I'm glad you haven't had much of it to do.
I'm very pleased to hear the Glenn Avenue house is let.  If it once gets into shape it ought to be easy to keep it occupied & perhaps sell it in the end which is the best thing that could happen to it.
In 1920 if things go well we'll probably be buying a new car, for the old Ford will be getting pretty well played out & then I think, as soon as campings over about the beginning of Sept. we'll house our kids somewhere & go off on a jaunt ourselves like the Lyson's do.  We might go with them or alone.  I'm not quite sure about the details yet, but I've always looked with favour on some such scheme.  If we bluy another Ford of course we'll have to go alone (I think I could stand it all right) but I'm hoping to get something better next time.
Its getting to cold to write more now
If one of those electric water warmers like the cook lent us to take to Vancouver would be useful to you you'd better buy one.  You've got nearly 6 more months of electricity I suppose.
Lots of love, Ducky, I am looking forward to this winter so.  That gloomy sitting room won't be so bad with lots o light & a cheery fire & me in my chair & you sewing down to one side.
Ever your
Robin.
Did you carry the meat safe all by yourself to the car.  Sinner!!!!!
<>
Oct 6th 1918.
Darling, Yesterday was my day for writing to you & I didn't do it, please forgive.  We were very busy really moving into barracks.  As soon as we'd finished dinner we had to collect all our goods out of the tents & find the right place in barracks to put them.  I'm very comfy.  Most of the bunch form the Q. M. stores are together & at present we're not at all crowded.
At 1.30 there was a muster parade, everyone in camp that means & we set to work taking down tents, putting them in bags, getting out the tent pegs, carrying away the floors & stacking them.  When you get about 800 men and 10 motor trucks on the job it doesn't take very long.  After about 2 hours you would never have know [sic] there was a camp there except for the circles on the grass where the tents stood.  We got dismissed just in time for Hamer & I to get changed and catch the 4.15 to Hamilton.  We went to our usual restaurant & a show afterwards & got back to camp shortly after 12.  About 1 o'clock the bugle blew the fire alarm & we all had to chuck on a few clothes & line up outside.  Pouring with rain of course.  It was a real fire this time but a farm house or something some miles away so we didn't have to go.  I think it was struck by lightning as we'd just been having quite a storm.  It seems to rain most days over here.  They blame the "flue" onto the bad weather in September.  It was the coldest Sept. they'd had for 80 years.  I always seem to strike rotten weather.  I haven't heard of anybody here getting it yet.
Just after I'd written my last letter to you, telling you to bring a great coat up to Vernon for me, there was a horrible rumour going round the camp that all discharges were cancelled.  Like all rumours everybody knew it for a fact but like all rumours it seems to have been wrong.  I sincerely hope it was but you never know you're [sic] luck.  The general idea seems to be that we'll get away early in November.  That will suit me all right.
I got quite a good letter from you yesterday telling me all about Stella.  It seems a very good arrangement & just exactly what we wanted.  I think you'll find that you have a much better time than you did with Kate, also it will be great to have someone to teach the kids up at the ranch.  We'll try & get up at the earliest opportunity some time in March with luck as I shall have to get pretty busy on the ranch.  There will be a lot of ploughing to be done if we're going to grow enough stuff to feed the horses & cows.  What are we going to do about Daisy?  Does Stella ride.  Is it worth while trying a buggy on the off chance of her wanting to drive.  I'd like to keep Daisy but if she's never going to be used Its [sic] not much use.  I doubt if there will be any Red X next year but I don't see you riding or driving to it any more, not with the Ford waiting in the garage.
If little tractors ever come in, it would pay us to dispose of Billy & Pen & get one.  At present nearly all the ranch is taken up with pasture for them & growing hay.  Without the horses the cows would get more pasture & we might be able to use the best of the land to grow a few spuds & such like.  We might get another Daisy so that we can ride together or one of us take M or A out.
So you've really put on about 10 lbs.  Good girl!  I think you'll want a big reward when I come back, especially for the 3 or 4 minutes rub down in the mornings, which must have been quite a chore.
I must chase up my housewife now & sew on some buttons & then if it clears up we're going out for a walk.  It is rotten weather, now, rain most days & if we get a clear day there's a cold wind with it.
Heaps of love, dear.
Ever you
Robin.
for Dicky
O
Does he like taking them off. If not I won't bother to put them on.
[The "O" above represents a circle about 2 cm in diameter.  Perhaps a coin was glued inside the circle.]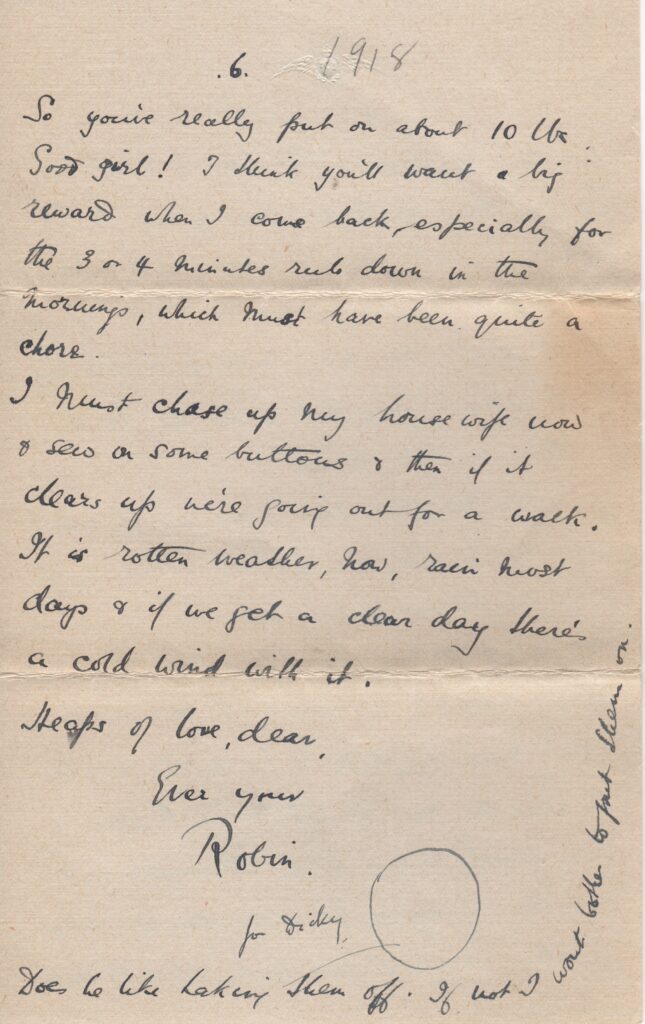 <>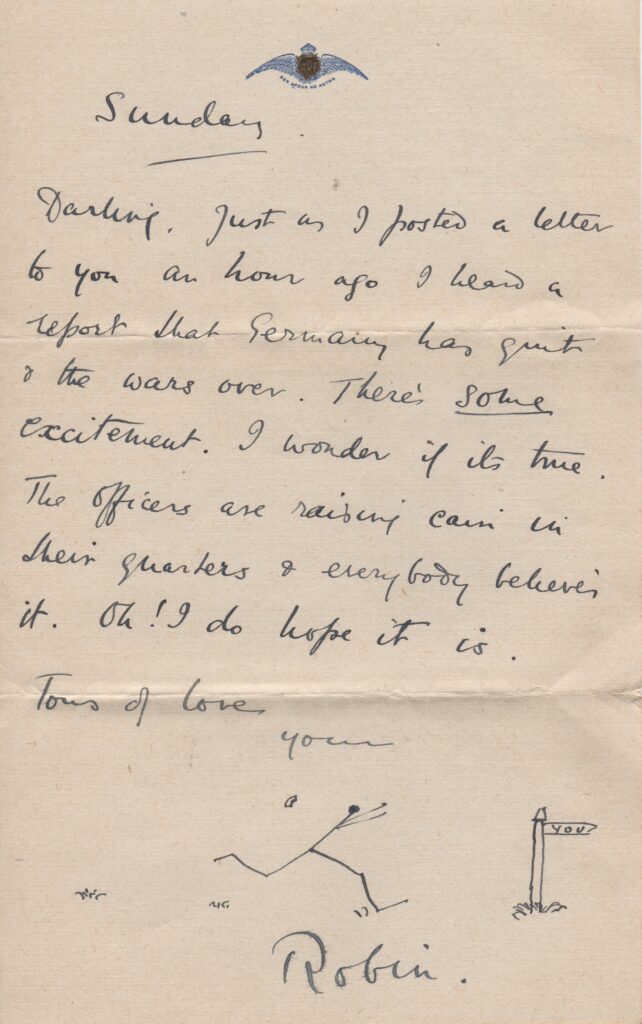 Sunday.  [October 6, 1918?  On October 3 – 4, 1918 Germany had written to Woodrow Wilson requesting an armistice.]
Darling,  Just as I posted a letter to you an hour ago I heard a report that Germany has quit & the wars over.  There's some excitement.  I wonder if its true.  The officers are raising cain in their quarters & everybody believes it.  Oh! I do hope it is.
Tons of love
your
Robin.
<>
Tuesday.  Oct 8th 1918.
Darling,  Our excitement seems to have been a little premature.  Why do these telegrams always come on a Sunday?  Of course the news was very good but not nearly as good as we expected.
My head buzzes with rumours about our discharges & I haven't the least idea whats going to happen in the end.  Some say they are cancelled, others that they won't be long & the last & worst one is that all men who get their discharge will still be reckoned as being in the Army & will be placed in something else.  I suppose we'll know what's what later on.
I [sic] very fed up at present.  I'm trying to write in this room & there's a seething mob of men who've been moved out of another room & are swarming in here dragging their kits looking for a place to sleep.  I believe we are supposed to move out somewhere else but I'm not going to budge till its absolutely necessary.  They are always doing that, just as soon as you get settled down in one place they make you shift to another.
Hamilton is out of bounds now as they've got the flue so there will be nowhere to go this weekend & as next Monday's a holiday its going to be pretty slow around here.  Altogether I'm feeling — !!**!! sore & Duff whose [sic] in the next bed & is in the same position as me as regards discharge & whose family is n Hamilton is in much the same mood.
There's nothing really to write about & such a blasted noise that I can't think anyway.
Ham [?] & I went to Church on Sunday evening & up to Framptons afterwards.  Last night to the pictures & tonight there's an R. A. F. concert in town which may be good.
There you have what I've been doing in my leisure moments.  As regards the day, one day's much like another.  It isn't quite such a good job as it was when I started at it as the weather's so beastly but its a good outdoor job with a certain amount of variety.  We've been having a man driver lately which I hate.  They are all crazy young lunatics who rattle along with no consideration for the people in the back, and as we get a good many trips to the station over a very bad road I was distinctly pleased to see Miss Cross back on the job this morning.
By the time Mary's had another term at school she should have got to the stage when its pretty easy to teach her things as she'll have learnt how to learn if you understand what I mean.
No more now, perhaps I'll be in a better temper when I write next.
Heaps & heaps of love, ducky, & forgive a rather grouchy letter.
Ever your
Robin.
<>
Friday.  Oct 14th 1918.  [sic – Friday, October 11, 1918]
Darling,  We are having some glorious weather at last which may help the flue out.  They say its going all over Canada so you'll have to be careful yourself.  If I should feel rotten I can buzz off to the hospital at once.  If you should, you'll kindly phone up Dr. Knox & let the kids lump it till he comes & he'll fix up some scheme for you.  Somebody will come to the rescue & see to them.  I hear the great secret is for the patient to stay in bed for 24 hours after he feels alright again so kindly bear that in mind.
About 6 of us are sleeping in the Q. M. these days & having a good time.  In barracks the old orderly corporal used to come round and bawl us out of bed at 6 o'clock & we had to get up & be all ready by 6.30 7 then hang around till breakfast time.  Now we have spring beds & the first thing I heard this morning was the bugle blowing "Come to the cookhouse door, Boys," at 7 o'clock.  This is a great improvement & I hope it lasts.  They have done away with early morning parades now.  It was cruel to get men out at 6.30 to stand in the dark & beastly cold just to answer their names.
We have a new girl now driving our truck & I'm very bored with her.  She's better looking & much younger that Miss Croce [?] but she can't drive for nuts & can never manage to figure out how to backup to the right place which annoys me.  I always want to get in & show her how it ought to be done.  But its a fearful crime to interfere with a girl driver so I sit & gnash my teeth instead.  The old Croce thought a lot of Duff & me & hated having to leave us.  She bought us each an ice cream cone & a stick of chocolate the last afternoon & her mother's going to knit us a pair of socks each.  I certainly did take a lot of trouble to make things as easy as possible for her when she was new to the job for she was rather a forbidding looking person & nobody had much use for her & as son as she began to feel at her ease she turned out a most good-natured person, & a very good driver.
Morley & I are going off together somewhere this weekend.  Its a washout from Noon Saturday till Midnight Monday so we must go somewhere.  We rather think of setting out with no particular destination just walking away & taking all lifts we can in motors.  I suppose we shall find somewhere to sleep at night, & it will be a change from always going to the nearest town & doing a picture show.  Of course its quite impossible to avoid crowds when you're in the army so one's no worse off in a picture show than anywhere else.
It really begins to look as if we shall smash the Germans completely before the winter sets in so perhaps my return isn't going to be delayed very long.  They want all these barracks her for demobilisation barracks so I expect they'll fire us off home at the earliest opportunity.
I suppose there will be a certain amount of satisfaction in seeing the thing thro' to the end but the sort of work I'm doing isn't really important & I can't really say that I'm doing it willingly.  I hope I get away before the new batch of horses comes in as I don't want to go back to driving again.
I am very glad to hear that Jock's wound wasn't bad.  I suppose it will keep himout of it for quite a while which is a good thing.
Don't forget to make some arrangements about getting wood.  You want to get a good supply arranged for & have a little brought at a time.
We get a tremendous lot of grapes these days.  The same kind we used to get in such profusion on board ship.  They are really very nice.  We've also been having corn on the cob dished out to us at meals.  That stuff always seems one too many for me.  Anyhow what with the grapes, corn, stewed prunes & apples my poor tummy's very wobbly.  That's rather a good way to have it these days tho'.
Thats all my news.
Heaps of love, darling.  Keep your eyes on the war news & then you won't bother about my not getting my ticket for I think I'll be back soon anyway.
Your Robin.
<>
Monday.  Oct 14th 1918
Darling,  My hopes of getting any mail today are dashed to the ground because I find no mail atall [sic] comes in on Thanksgiving day so I'll have to wait till Tuesday & that's a long time since last Thursday, when the last letter came.
Our usual Sunday rumour came thro' yesterday, quite official of course that the Germans had agreed to all Wilsons peace terms but all we did was to soundly curse anybody who came in & said the war was over & otherwise take no notice.  The paper boy of course didn't come to camp today so I haven't any idea whats going on.  I'll go out soon & if Beamsville isn't quite asleep I may find out something.
I had quite a good day yesterday.  I told you I was going to stay in camp this weekend instead of going away.  I had a most restful day.  I got up at the last possible moment for breakfast went of & got it, came back & took off on [sic] my boots & crept back into my blankets till dinner time & then repeated the same program till tea time.  After that I got all dressed up & shaved & went for a good swift walk, called at the café for eggs & toast on my way back & was tucked up in bed again at 10 o'clock.  I didn't sleep all the time but what with reading & smoking & talking to various fellows, I spent a much better day than I should have have [sic] done tucked up in a hotel.  I was going to do the same again today but its too cold, & there's no heat in this place.  We have got an oil stove going & are sitting within an inch or two of it but this building is rather like a packing house only better finished so one oil stove doesn't help much.
I started this letter off quite gayly [sic] but I'm quite stuck now for a subject.  I haven't done anything since I wrote on Saturday afternoon except what I've told you & there's no news from you to talk about so I'm rather beat.  Hamer wanted to know if I could play chess yesterday & how good I was.  Its almost impossible to explain how good one is at a game like chess.  It doesn't help much to tell him that I taught my wife to play & can usually beat her (practically always, in fact.)  We are going to have some games if we can get hold of any men anywhere.
The Camp is practically deserted this weekend.  There aren't more than 50 men around altogether.  Nearly all the rest have gone to Toronto.  I think most of them can find some attraction there but I've got a L. K. keeping a place for me so that kind of attraction couldn't get me to Toronto & there are no shows on & it seems a long way to go just to get a decent bath.
I'll stop now, there's nothing to say.
I'll go & find out what the papers say about this latest German offer.
Discharge or no discharge, I believe I'll give you a real Christmas kiss about the tilme that Dickie's groping in his stocking.
Ever your
Robin
O
for Dickie
[The O represents a drawing of a person with a circle about 3 cm in diameter for a torso.]