May 28, 1908
Kelowna, B. C.
My dearest Kathleen,
Your letter came about four days ago and was as welcome as anything except yourself could be.  Harry's letters are put in my box in the Post Office (we have no rural delivery) and I always bring them out to my place for him to come and get them and it is really rather trying to bring out Norah's letters all the time instead of yours; but then I know you have been pretty busy what with learning dualogues and staying with relations so I content myself by reviling Harry when he gloats over his letters and occasionally throws out some bit of local news which he thinks I may be privileged to hear.  I brought him out a great fat letter today but was away when he came for it but judging from the note he left for me he has gone home with his head somewhere up in the clouds.  If you two girls knew half what your letters meant to us I think you would be rather pleased.
We have been very busy this last week making a lawn round the house which I think is going to be a great improvement, if I can get a good catch of grass.  Before it was all rough like a field and was impossible to mow so that I used to have a hay crop round the house but now we have dug off all the old sod and levelled the ground and sown it with lawn seed and I hope by next year it will be looking quite nice and you shall see it for yourself.  Kathleen, darling, you don't know how I am counting on next year.  All the time I am working to make the place nicer I keep wondering what you will think of it and how you will like it and I don't think you can help liking it, for I have never met anybody who didn't think this a nice place yet.
I have been down having supper with some friends of mine called Lysons tonight.  They consist of Lysons himself who is one of my best friends out here, Mrs. Lysons who is also a friend of mine, and an infant who was only christened yesterday and who rejoices, or rather will rejoice when he is old enough to know anything, in the name of Robin.  I told them tonight about you and that I hoped to go home to be married next year.  They are the only people I have told.  We spent the evening drawing diagrams of the house and trying to fit in the necessary alterations.  Lysons was once in partnership with a man on this place and had a lot to do with the building of the house so knows all about it.  We managed in the end to get the various rooms arranged rather nicely and I really think I can make quite a nice house out of it.  By the time I have got things fixed to my liking, which is the same as saying to what I think you will like, I shall probably have just enough spare cash left to come home to be married and shall then start fresh with a pretty good farm in pretty good order and no debts and I think a man with a start like that should do pretty well especially in a country like this where you never know what won't turn up.  Kathleen, if I was a rich man I think I should be missing now half the things that give me pleasure, for if one is rich everything is so cut and dried for one that half the pleasure of attaining anything is gone by the very ease with which it is attained.  I believe it is the little everyday episodes of life that go to make up happiness or the opposite and the fact that one has lots of money, a big house, servants, and anything one wants doesn't make any difference at all if these little things go right.  It is when they go wrong that it is nice to have money so that one can procure fresh diversions to make one forget the little things.  I wonder if you will grasp my idea in that.  I think it can be boiled down as follows:  if a man has the right kind of wife and sufficient money not to have to worry to make both ends meet, he stands a pretty good chance of being happy.  You know best what a girl's point of view is (I should rather like you to tell me in one of your letters) but I imagine that if a girl has a husband who just worships her and she loves him, she is a good way along that road herself.  You can tell me best what else she wants and that is what I should like to know.  You little dear, I shall have the right kind of wife all right and I hope I have sufficient money to keep from worrying about making both ends meet, so you see I am quite confident about it and should love to hear from you that you are equally so.  I am afraid it is not very nice for you when all your relations try to get you against coming out here.  They know nothing at all about the country, but still it must be rather unpleasant.  You dear little girl, the night I left you you told me you loved me, the first and only time you did so, and that gave me and still gives me more pleasure than anything you have done except what you did on the balcony of the Stow Town Hall on the night of Feb 4th and I believe that was the most exquisite moment I have ever enjoyed.  It was only a moment, worse luck, but that was the fault of the architect who designed the Hall.  I wonder if you can remember what that was.
It is nearly 2:00 o'clock in the morning and I am supposed to get up at 6:00.  There is a dissipated bird that has been singing outside the window for the last hour.  I suppose it sleeps all day.  Unfortunately I can't.  Good night, dear.  (I wish I could say that instead of writing it.)
(3 days later)
I don't seem to have told you much news so far, but I expect before I was feeling the influence of the silent watches of the night.  The proper time to write a really sensible letter, I should imagine, would be the early morning.  You will at once gather that all my letters are written late at night, but not so.  I wrote one on a very wet morning but forget now whether there was any sense in it or not.  I am afraid I am writing this after supper too so if I go wandering off into purely personal remarks you can skip if you like, but make allowances for the above mentioned influence.  
On reading this through, I am sorry I wrote it.  In England, to plead as an excuse for doing something silly that it was done after supper only admits of one interpretation, but in the "wild west" we drink tea at all meals except breakfast when we have coffee, so that if I should go wandering off into the realms of fancy it is not the effects of supper as an earlier sentence of mine might unfortunately lead you to suppose but the influence of my recollections of some very pleasant times with you coupled with the effect produced by your photograph over my desk.  
Talking of photographs I received the rest of the photographs of myself I had taken before I went away a few days ago and I cannot help but admire my pluck in sending one to you.  I never went much on my personal appearance but really, those photographs don't flatter me.
I don't think I have written to you since I wrote to say I had been to one dance and was going to two more the following week.  They were good dances, I suppose, but I was horribly bored at the first which was in a private house and just like an English dance; but the second, which was at a hotel down the lake about 6 miles, was quite good fun.  Most of my friends live down that way and we danced to a gramophone in a little tiny room and the dust was so thick it looked like snow on the men's black coats and it made the girls with dark hair look as if their hair was powdered.  The dust was accounted for by everybody going out between the dances.  It was a lovely warm night with a full moon and there is an orchard round the hotel and the seats scattered about in it were much appreciated.
Why weren't you there?  I might have appreciated them too.  As it was, I danced every dance despite the dust and was so hoarse the next morning I couldn't speak.  I can imagine no more ideal country for an engaged couple than this.  If you were only out here now I could ride over every evening after supper which is generally over by half past six and we would either go for rides in the cool of the evening or else, unless we were particularly unfortunate, whatever house you were in would possess a hammock on the verandah and one (I mean two) can spend quite a pleasant evening that way.  I suppose one hammock would be enough.
It is no use, Kathleen, I can no more sit down and write a good plain letter on the customs and fauna and flora of this country to you than I could write this letter in Latin hexameters.  If I remember rightly in my last letter I told you to write and ask questions, so when the answer comes I shall expect a string of searching questions which I hope I shall be able to answer.
I hope to send you some more photographs of the house and its surroundings next time I write, as I have taken quite a few and they are being developed.  They don't apply very much now as when the house is altered it will look entirely different.
The man who builds all the houses here came up the day before yesterday to see what had to be done and I believe we start in to do the preliminary work next week.  I had an idea of not telling you what I was doing and leaving you to see the result but as unfortunately you can't see things as they are at present you wouldn't know what had been done.
We are going to move the whole house about thirty feet to a better site which will allow plenty of room for a decent lawn, though not big enough for tennis I am afraid, and possibly a few flower beds (flowers grow easily round here) and then take the upper part of the house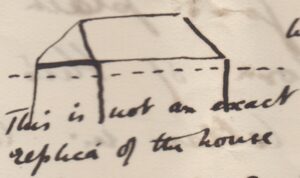 where the dotted line is and raise it about four feet which will give me two large-sized rooms upstairs as well as a bathroom (rather a luxury in this country), entirely alter the downstairs part, put in your open fireplace, plaster the whole thing, paint the outside, and the job will be done.
This all sounds a much bigger undertaking than it really is, but you must remember that these wooden houses are easily altered.  We have already dug a trench round the foundations preparatory to putting in fresh ones and then all one does is to raise the house on screw jacks, put rollers underneath, and pull it to the desired position  It does not interfere with the inside at all and we do not have to turn out while it is being done.  And the same with raising the roof, it is not a very big job really.  Fixing the inside will be the hardest as it is rather difficult to know what will be the best way and give the best result.  Most people make a few mistakes over their first house and I shall probably do so over this one, but this is not only my first but I hope will be my last out here, as I think when you have been out a little while you will not want to go anywhere else.
This is such a lovely month as a rule, Kathleen.  It has been glorious for the last fortnight.  It is the time of year I think I should like you to see this country for the first time.  I hope to come back to England next spring and please, dear, don't make me stay there too long.  I want you out here and all to myself.  Tell me that you are rather looking forward to next year yourself in one of your letters, will you.  I believe you are, but still it would make rather nice reading, wouldn't it?  I hope you enjoyed your trip abroad.  You will be back by now.  If you returned the day you said you were going to, you came back on my birthday, exactly a month before yours.  You see I haven't forgotten what I read in Roddy Barnsley's Birthday Book.
I am going to stop this letter, as assuredly you will be tired of reading by now, hoping all the time to find a scrap of original local news but forced in the end to come to the conclusion that the only subject that I can write on is my love for you, which you know already, and that the things you don't know don't get written about at all.  But cheer up, one of these days I will send you a nice plain letter without a word of love in it (if you write and tell me you would rather I did, not unless).
While you were gallivanting about in Paris, I was building fences and planting out my garden (vegetables).  I expect the contrast is duly impressed on you and the fact that when you marry me, little trips to Paris will not be frequent affairs at first, if ever.  I suppose you realize all these things, Kathleen.  I am rather glad your relations etc. don't approve of me and my intentions.  You see, you will have all the drawbacks and disadvantages placed clearly before you and it will be a case of "blessed is she who expects little", whereas if they were all praising me and the country and the life all the time you might be rather disappointed in the end.  So the proverbial silver lining has turned up again.  It always does somehow.
It is rather odd, the dissipated bird I mentioned before has suddenly started in to sing lustily again  I don't know what kind it is but it always does.  It warned me it was getting late so I looked to see and found it exactly midnight.  Luckily tomorrow is Sunday, but if I come home looking very pale and haggard you will know the reason.  I shall also probably be suffering from writer's cramp.
Good night again.
Ever yours,
Robin