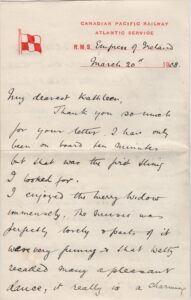 CANADIAN PACIFIC RAILWAY
ATLANTIC SERVICE
R. M. S.    Empress of Ireland
March 20th    19 08
My dearest Kathleen,
Thank you so much for your letter.  I have only been on board ten minutes but that was the first thing I looked for.
I enjoyed the Merry Widow immensely.  The music was perfectly lovely & parts of it were very funny & that Waltz recalled many a pleasant dance, it really is a charming one & seemed to have the same effect on the Prince as the Choristers does on me, for he always went straight to his girl the minute the opening bars started and I always feel the same way.
How did the hockey go?  I saw most of your opponents at Chipping Norton Junction yesterday morning.  I hope they dealt gently with you.  I hope you are having a good day's hunting.  You will be able to trot home with Mr Barnsley now instead of having to crawl slowly back because my horse is lame.
An Essay on My idea of Trans-Atlantic Travelling would be really thrilling.  Thusly — Breakfast at the latest moment obtainable, read, lunch, read, dinner read smoke bed.  This programme is subject to alterations chiefly dependant on the people I come across.  I wish this next fortnight was over or better still this next year.  It is rather nice to think that the next time I make this trip it will be under very different circumstances
They tell me hunting stops on April 3rd so you really haven't much more.  I wonder if you are alone now & if Norah is going to stay with you.  Harry didn't know.
I suppose we start pretty soon now,
With heaps of love
yrs always
    Robin.